NEUROFEEDBACK TRAINING AT HOME!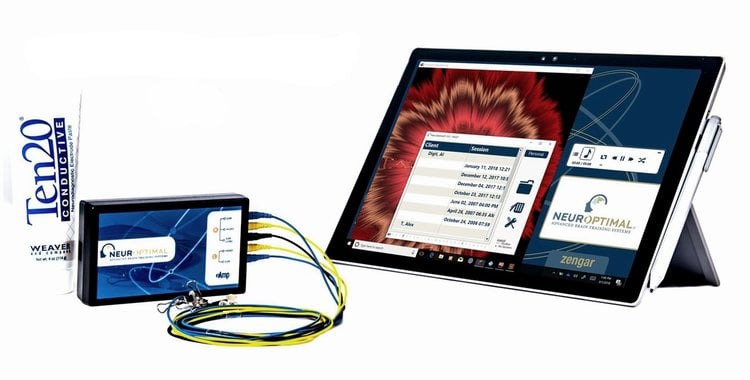 PACKAGES & COST
Choose between three monthly plans:
PERSONAL TRAINER PLAN ($600* per month) Includes 10 sessions = $60 per session. Ideal for one person training 2-3 times per week. (Additional session costs $25, billed upon return).
FAMILY TRAINER PLAN ($800* per month). Includes 20 sessions = $40 per session. Ideal for families who are training multiple people or for someone who would like to do more than two sessions per week. (Additional session costs $25, billed upon return).
UNLIMITED TRAINER PLAN ($900* per month). Unlimited sessions for 3 or more people up to 5 people.
* Residents of NY and CA will be charged sales tax for their rental and any shipping charges. If in NYC, that rate is 8.75%.
Pick up for free at one of our locations. We also ship the system throughout USA for a flat-rate cost of $50. ($100 to Canada)
WHAT'S INCLUDED IN YOUR HOME EQUIPMENT?
Tablet with NeurOptimal software 3.0, sensors and EEG paste

Tracking Tools-self-reporting checklists for measuring changes

Printed Manual and video instructions

Weekly check-ins with a Neurofeedback Rental Coach

Tech support (if needed) with NeurOptimal Tech Support team
We have partnered with The Meadows Clinic Programs to offer neurofeedback rentals for home use as a helpful addition to your after-care plan.
See below for our monthly plans and pricing.
---
One of the most frequently asked questions is: how many neurofeedback sessions will I need? I start by saying, "Every brain is different and every person has different goals so we can't give a precise number, But there are some key dos and don'ts that can have a significant impact on how quickly you'll notice changes. Read more >