---
Buy a PROFESSIONAL Neurofeedback System
Expand your therapy practice or health-care clinic to include the state-of-the-art NeurOptimal® neurofeedback training.
We will help you select the right system for you, walk you through the purchase, and how to become certified as a trainer, and make sure you are up and running quickly.
Scroll down for cost and learn how to become a certified NeurOptimal trainer.

---
Neurofeedback Cost
NeurOptimal® Professional Unit:
$9,995* Starting Price
The NeurOptimal® Unlimited License System includes everything you need to set up in your practice.
No-Interest Financing available
No on-going subscription fees
What's Included?
All equipment you need to start training;
Microsoft Tablet, 2 EEG sensors and more
Three months of a full service PASS membership
Expert training and support available; 2 coaching sessions included to get you started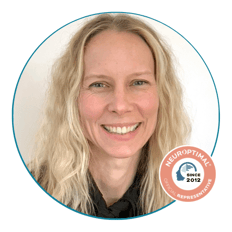 Fill out the form and Natalie Baker, NeurOptimal® Sales Representative and Advanced NeurOptimal trainer, will get back to you to schedule a call.
Yes! I'm Interested in Buying a NeurOptimal® System
---
Table of Contents
Scroll down or click on the links below to learn more:
Why Choose The NeurOptimal® Neurofeedback System?
One reason is the ease of setting up and running successful sessions every time. The NeurOptimal® device is a fully automated system, thanks to the software feature: AutoNav. This feature allows for less training needed before you are running effective sessions, and considerably less time spent on on-going evaluation of your clients rather than helping them. This neurofeedback device and training is not intended for diagnosis or treatment of conditions.
In November 2018, The FDA designated NeurOptimal® Neurofeedback as a General Wellness Product. Read NeurOptimal FDA statement here.
Top reasons why Adding Neurofeedback Training To Your Health Care Practice or Clinic
Earn passive income through rental units: both you and your clients benefit! (Ask Natalie more about this feature.)
Support the overall brain wellness of your clients! Neurofeedback helps facilitate the changes you want from therapy.
Pays for itself quickly. One neurofeedback client per week at paying $125/session would pay for your monthly installments!
Read Also:
Q&A On Buying a Professional Neurofeedback System
Do I Need To Purchase Extra Items To Get Started?
The Professional Bundle includes everything you need to set up and train your clients.
It includes:
computer hardware and software (not monitor which is optional and not needed to perform a session)

manuals

EEG paste

earbuds

6-month membership to PASS (

unlimited technical support,

access to professional educational support including,

many hours of webinars by experts,

over 10 forums to ask questions from experts on topics from clinical issues to marketing, s

earching capabilities in forum library to find previous posts on a topic that interests you)
Once I Purchase A Professional Neurofeedback Unit Is There An Ongoing Licensing Fee Or Other Monthly Fees?
No, unlike other neurofeedback systems, which require you to pay an ongoing monthly fee so long as you have the unit, with NeurOptimal you own your equipment out-right. You may decide to renew the PASS membership on an annual or monthly basis for ongoing technical support, access to educational tools and the community of professionals, but it is optional.
How Do I Get Certified As A NeurOptimal® Neurofeedback Trainer?
Because the equipment is fully automated and safe to use by anyone, Zengar, the makers of NeurOptimal, encourage professionals to first purchase the equipment and use it for a few weeks on themselves and on a select few other trainees, before signing up for the Basic Neurofeedback Certification training. This initial first-hand experience of the equipment helps prepare for the training. Some people rent a professional unit to try first before purchasing. There is no "correct" way to get started.
The Basic Certification costs less than $700 and provides you will all the technical training as well as the basics of how and why the system works. The course is a three-day online training with an expert trainer. In some areas of the world, they have local, on-site training.
The main source of learning, and how we become an "expert" is through the process of training ourselves, working with clients and reading old forum posts, posting questions to the experts on the Forum, and watching the webinars.
How Do I Go From Exploring Whether It Fits My Practice To Purchasing My NeurOptimal® System And Integrating It Into My Practice?
Some professionals try it first by renting a professional neurofeedback unit and trying it on themselves or a few appropriate clients. Others do the training and educate themselves through reading about neurofeedback and discussing with professional trainers what method has worked for them before embarking on purchasing. Others buy one immediately then take the Basic Certification training. Again, because the system is 100% safe there is no danger in starting training before doing the certification.
---
Not Ready to Buy? Rent The Professional Neurofeedback System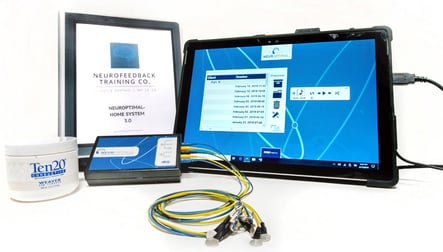 Try a NeurOptimal® a system rental before purchasing. View pricing.
Schedule a session. We're located in NYC, Denver and Los Angeles Pasadena). View cost.
If you want to rent a Professional Unit to use for the certification training by NeurOptimal®, please notify us one month ahead as we at times have a waitlist. Fill out our form here to start the renting process. Please add in comment field what date your NeurOptimal® Certification Training will be. Fill out the form on this page and let us know if you are interested in renting a professional system before making the decision to buy!