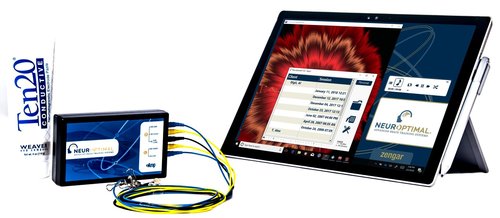 NEUROPTIMAL® NEUROFEEDBACK EQUIPMENT FOR SALE
The neurofeedback machine for sale is the same advanced technology used in our offices and includes all you need to start neurofeedback training at home!
Choose Between Two NeurOptimal Neurofeedback Systems:
PERSONAL TRAINER TABLET
Price: From $6,695*
Includes 100 sessions (approximately $60/session). Financing available!
What's included?
Everything required to start brain training at home.

Additional sessions can be purchased for as little as $10/session.
Same technology as the professional system used in clinics but with a much simpler interface you can learn in minutes!
UNLIMITED SYSTEM (PRO SYSTEM) TABLET
Price: From $10,695*
Unlimited Sessions. Financing as low as $195/month with no interest.
What's included?
Expert training and support available

NeurOptimal® Professional unlimited license
If you are a health-clinic professional and looking to expand your practice with neurofeedback, click here to learn about which system to buy and what is included.
INTERESTED IN BUYING A NEUROPTIMAL® SYSTEM?
Fill out the form below and Natalie, NeurOptimal Representative and Advanced NeurOptimal® Trainer, will get back to you
*Residents of NY, CA, AR, WA, CO & TX will be charged sales tax.
Whether you order your system directly from Zengar (the makers of NeurOptimal) or purchase through us the price is the same!
Not ready to buy? Try the Neurofeedback Training At Home and Rent a home system
Same training as in-office sessions or equipment product sales

Three different monthly plans offered, including an unlimited plan

$75 Flat rate shipping cost within US Includes return shipment and shipping insurance. $100 shipping cost to Canada (one-way).

If buying a system through us after renting, you will receive $100 off of your rental!

All our rentals comes with the newly updated NeurOptimal 3.0 software and ongoing support from a rental coach