RENT A NEUROFEEDBACK HOME SYSTEM
Enjoy the same training as in our clinics with Neurofeedback training at home!
The NeurOptimal® Home System is a professional-grade neurofeedback equipment specifically designed for home use and is fully automated. All our tablets feature the newly updated NeurOptimal software 3.0
Pick up for free or have it shipped directly to your home for a flat rate shipping fee. See below for Pricing and a Q&A on the renting process.
NEUROFEEDBACK COST & PACKAGES
Choose between three monthly plans (scroll down to view a step-by-step guide):
PERSONAL TRAINER PLAN *$600/month
Includes 10 sessions = $60 per session. (Additional session costs $25, billed upon return).
Ideal for one person training 2-3 times per week.
---
FAMILY TRAINER PLAN *$800/month
Includes 20 sessions = $40 per session. (Additional session costs $25, billed upon return).
Ideal for a family or those who would like to do more than two sessions per week.
---
UNLIMITED TRAINER PLAN **$900/month:
Unlimited Sessions
Ideal for those who are training multiple people.
---
* Residents of New York and California State will be charged sales tax for their rental and any shipping charges. If in NYC, that rate is 8.75%.
Shipment cost is not included and is billed separately at $50 flat rate. Return shipment is the renter's responsibility.
Lowest price guaranteed. Happy to match any price! Contact us here.
3 EASY STEPS TO RENT
View a detailed step-by-step renting guide below.
After filling out the form, you will be prompted to fill out a contract electronically. A contract is required to process your rental!

A rental manager coach will be assigned to you. Once the contract has been filled out a system will be shipped out or get in touch with you to arrange a pick-up time.
---
WHY RENT A HOME SYSTEM?
Our rental package helps people who want to optimize their school and work performance, enhance mental acuity, create calm and balance, or shift their unhealthy relationships with cravings. View the benefits here.
You're able to run sessions at your home on your own time and pace, and for 50% savings over in-office sessions if you rent.
Here are 6 reasons why renting is the most cost-effective training training option
Saves in cost. Cost when renting can be as low as $40 per session, even more if you choose the Unlimited Plan!

Same exact training as in-office visits

Easy to use. Watch a video here

Includes all materials needed to do brain training at home - even paste!

Train multiple people at home. (Up to 6 people. Only requirment is to send us a consent form for each person training)

Our team of experienced trainers will guide you throughout the renting process and each system comes with a printed manual
Recent review from a renter who is training together with a family of four:
Ellie has used the machine twice and it's helping tremendously already! Whomever made the instructions, did an incredible job. They are very helpful. Thanks so much for all of your help!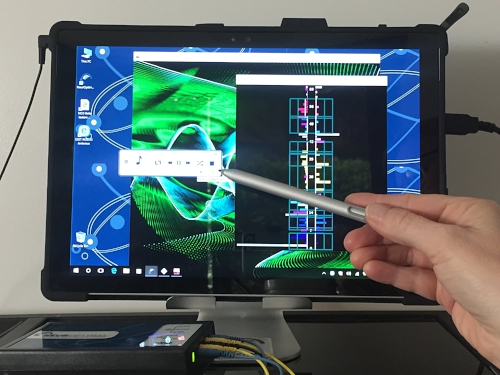 NeurOptimal® is…
Non-invasive brain training approved by FDA

Designed to support the brain's naturally learning process
Fully automated. No diagnosis, no brain mapping necessary and no side effects!

Safe brain training for all ages!

Effortless training - Sleep is encouraged while in session. Watch how a session looks like.
---
Q&A ON RENTING A SYSTEM
WHAT'S INCLUDED IN A HOME RENTAL?
All equipment is included to do neurofeedback training at home, including conductive paste! Only item we don't provide are headphones. But any earbuds or regular headphones can be used or stream the music directly from the system. It is also required to have internet access for the software to work properly.
WHICH SOFTWARE DO YOU USE?
All our home system rentals have the newly updated NeurOptimal 3.0 software (released April 2018). Learn more about these new features here. The rental units provide the exact same training as in clinics or therapy offices who provide NeurOptimal neurofeedback training!
HOW SOON CAN I GET THE EQUIPMENT?
Pick up for free at our locations or have it shipped one way at a flat rate of $50 for 3-4 business days – anywhere in US or $100 to Canada (5-6 business days)! Shipping cost is not included in price and billed separately. Return shipment is the renters responsibility. (If you have it shipped, keep the box to re-use when returning).
HOW LONG CAN I KEEP IT FOR?
After the first month, you have option to extend the rental another two weeks or a full month. We recommend two to three months rental for best results for neurofeedback training at home.
No wait list!
We have a few system available for pick up or to ship. First come, first serve!
Want to speak to a neurofeedback trainer? Click here to schedule a 15 min. phone call with one of our experienced rental managers.
---
"After having a few neurofeedback sessions, I decided to rent a machine to train at home and save in cost. I would do it again in a heart beat!"
– Brie in NYC
---
STEP-BY-STEP RENTING GUIDE
Fill out a rental request form here. You will then be prompted to sign a contract electronically, please do so.

Fill out the contract. A complete contract is needed before we can assign a system to you. First come, first serve. At times we may have a wait of 1-2 weeks to receive a unit so we cannot always guarantee a system is available when you need it. The sooner we have your paperwork, the sooner you will also get the equipment! If you have any problems with the contract signing process, email us back at waitlist@neurofeedbacktraining.com

Get an Email from on of our Rental Managers and Neurofeedback Trainer Coaches (Sara, Kate or Alison). Once we have a system assigned to you, we will email you to confirm that you are ready to rent. Payment is not due until you are ready to rent!

Rental ships/picked up. Your Rental Manager will send you an to confirm that you are ready to rent and let you know when your system will arrive or is ready for pick-up. Payment is due before shipment and 24h before pickup date. Shipping within US is $50 or $100 to Canada, (Courier within NYC is $30). Please note: Signature is required to receive the package. We can also ship it to the nearest FedEx office.

Receive the home unit and all accompanying equipment, including paste, instructions and forms. You'll need your own headphones. (Any headphones can be used except bluetooth or noise-canceling headphones). You will also need to be logged on to the internet during the rental period. The software does automatic updates every 7 days.

Train your brain! Click here to view a short video on how to set up the EEG sensors and how to set up the equipment. We are also available if you have any questions.

We will be checking in with you periodically to see how your training is going and to answer questions. Make sure to fill out a Checklist Form every set of 8 sessions to track your progress!

A week before your training period ends, we'll contact you to see if you like to extend your rental. We recommend training for 2-3 months period for best results. Sessions do rollover from month to month so if you haven't had the time to do all the sessions in the first month an additional 2 weeks or a month is optional. When extending, your credit card will be charged the first day of the next 30 day period. If you do not want to extend, please notify us asap and we will make arrangement for the return. You are responsible for return shipping charges.
PLEASE NOTE: A WI-FI CONNECTION IS REQUIRED TO DO AUTOMATIC SOFTWARE UPDATES AND CONNECT WITH TECH-SUPPORT FOR TROUBLESHOOTING. If you don't have Wi-Fi, please let us know in your contract or email us.
---
WE'VE BEEN RENTING OUT SYSTEMS SINCE 2011!
---
GUARANTEED RENTAL EXPERIENCE
If a system is not running properly after a restart, or remote tech support call with a NeurOptimal technician won't help, we'll put your rental on hold and send you a loaner!
---
EXPERIENCED NEUROFEEDBACK RENTAL COACHES
All of our rental managers are experienced NeurOptimal neurofeedback trainers and will support you throughout your rental period. See also: Common results and best training tips from our Neurofeedback Rental Manage Kate in Colorado
---
We had a great rental experience being able to speak with you personally and communicate with you so quickly was very nice and all of us benefited from the training sessions so thanks again!
– Renter in Washington State
---
PURCHASE A SYSTEM
Often our rental clients try the training first to see how the like it and then decide to buy. We offer our rental clients $100 refund if renting first and then buying a system through us!