NEUROFEEDBACK HOME RENTAL
Why rent a NeurOptimal system?
A professional-grade neurofeedback system suitable for any age
All-inclusive rental; Expertise is built-in. Set-up in 15 minutes
Weekly check-ins with an expert neurofeedback trainer. We've been renting NeurOptimal systems since 2011
Best value; train multiple people at home. Cost per session can be as low as the insurance co-pay
Fast and secure delivery! All pricing plans include free express shipping.
Systems in stock.
Ready to rent? Fill out this form or scroll down for more information.

Click here for express checkout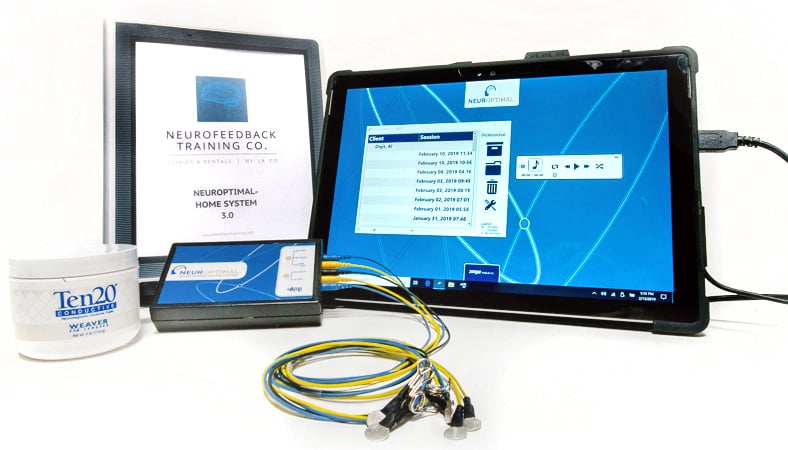 ---
Neurofeedback Rental Cost & Plans
Same neurofeedback technology, same tracking tools, same results. We've been helping clients train at home for over 11 years! Choose between three monthly plans. Extend as long as you wish and upgrade/downgrade as you go along!
---
September Offer! $151 off on the Elite/Unlimited Plan. Get coupon
---
ESSENTIAL
$650/month
Includes 12 sessions ($55 per session)
Additional sessions used are $25 each
Includes: Manual, set-up videos, tracking forms, and free shipping.
PREMIUM
$850/month
Includes 22 sessions ($39 per session)
Additional sessions used are $25 each
Includes: Manual, set-up videos, tracking forms, free shipping and two check-ins with a trainer.
ELITE
$950

($799/m)
Unlimited Sessions ($26 per day)
Train multiple people.
Includes: Manual, set-up videos, tracking forms, weekly check-ins with a trainer, free shipping.
Residents of NY, CA and CO will be charged sales tax separately. One month = 30 days. Price includes 2-business day shipping via FedEx (includes return).
---
Rental Steps
Fill out the form
Once submitted, follow next-steps provided.
Free shipping via 2-Day FedEx.
Have questions? We're here to help! You can use the chat widget or fill out the form, and a trainer will contact you.
Q&A On Neurofeedback
Why Rent a Neurofeedback Machine?
The latest generation called Dynamical neurofeedback, which is fully automated and uses real-time data to provide feedback, does not require setting protocols and, therefore, is appropriate for home use. It is designed to be used by clinicians and directly by consumers. Currently the only Dynamical system is NeurOptimal®.
NeurOptimal® neurofeedback, which is designed with unique technology called AutoNav. AutoNav allows for each session to be uniquely designed to give feedback to the client based on the dysfunction shown in the EEG output of the brain in real-time. AutoNav does not require the user to set any protocols; the system software calculates when to give feedback so running successful sessions every time at home or in an office is possible.
Doing neurofeedback on most home devices is very easy; most people learn how to run sessions in 15-30 minutes. The set-up varies, though, depending on what system you are using. There are small, smart-phone based devices that are not as advanced as the ones on dedicated computers. Either way, the set-up is simple and the instructions are easy to follow.
With the NeurOptimal® system for home use, all you need is a comfortable chair, a small table to place the computer, and a mirror for seeing where to attach the head and ear sensors (5 sensors total). To start the program you just press three buttons on the computer. That's it!
Home neurofeedback is much less expensive than doing sessions in an office setting. Office sessions cost anywhere from $125-$300 depending on location and expertise of the trainer conducting the sessions. It can be a lot to spend if you are not sure neurofeedback is right for you. For example, NeurOptimal® home neurofeedback sessions can cost as little as $30 a session. There still is a financial investment as most rentals are by the month, but the cost of conducting a series of brain training sessions is much more economical when done at home.
Temporarily, you can feel worse but that is usually temporary. Factors that can impact how you feel afterwards include which neurofeedback system you are using and why you are training. With protocol or linear systems, whereby a trainer sets targets for specific brain frequencies to change, if the trainer is off the mark the client can experience temporary side effects due to the suppression or augmentation of the brain frequencies. Usually feeling minor discomfort such as being a little charged, or sluggish, with those feelings changing in less than 24 hours.
Dynamical (NeurOptimal®) neurofeedback does not force brain frequencies to change but is purely feedback for the brain to use to change itself. Because there is no pushing brainwaves there are no traditional side effects. The client can still occasionally report "feeling worse" if they previously were disconnected or numb to body sensations, and/or the body's needs. For example, it is not uncommon during the first session if a client is sleep deprived from being anxious, to fall asleep during a session and wake up feeling very tired. This tired feeling, though, is not a bad indicator, but rather indicates that the brain is starting to adjust to be in alignment with current needs (i.e. the need for sleep). It has shifted from the hyper-arousal 'go-mode' into relaxation mode because it is in better attunement with its needs. The feeling of tiredness is accurate to the brain's state of exhaustion.
Another reason clients can report feeling worse temporarily is because neurofeedback training is comparable to learning any kind of skill, progress tends to be non-linear. Rewiring the brain to optimize its functioning takes practice and experimentation. Progress may fluctuate over time especially in the beginning as the brain gains new footing and begins to release old patterns. As a result, during the initial stages of training, clients may feel "better" then have a day of "it's worse" or "I lost my gains." In truth, progress towards regulation is happening, it's just not linear. When clients are prepared for the positive shifts to be wobbly at first and require more training for steady change, tend to do well through the initial period. They are prepared and stay the course.
As we learned during the COVID pandemic, appointments we can do from home are more efficient, and those include neurofeedback sessions. Neurofeedback at home is not efficient, though, if we don't make the time to run sessions! Setting a schedule like you would if you had an office appointment is a good strategy. Home neurofeedback is also not efficient if you are training on an inferior product that is not designed to create the specific long-term improvements.
The number of sessions you should do at home per week will vary depending on the device you are using. When you start brain training a comparable activity is learning a new language. The more you practice, the faster you become proficient. With NeurOptimal® neurofeedback you can train as frequently as daily. We recommend clients doing home neurofeedback to start with daily or every-other day for the first month, then switching to a few times a week for the next
two months. Over time, clients see stability in the changes to mood and cognitive functioning, as well as see the influencers, such as a particularly stressful event, that can cause a 'wobble' whereby there is a reversion back to mal-adaptive patterns. When a wobble occurs, a few daily sessions help to reestablish the changes.
Within the field of brain training, what you pay for your device is often on par with the level of sophistication of the device and the potential benefits. For example, a system that has decades of research and development behind it is going to cost more. Another factor is the cost of the neurofeedback hardware. Some headband devices have a simple low-cost headband with dry sensors and use a smartphone app, while others have EEG leads, software, an amplifier and a computer.
To find the best neurofeedback at home near you google "neurofeedback near me" and look for four pieces of information from the business listed: what type of neurofeedback they use (protocol or nonlinear), whether they offer a home rental system, cost, and reviews.
One way to tell if it is protocol neurofeedback, which often is not eligible or ideal for home use, is whether a QEEG brain map is required before training begins. If it is, then they are using a protocol system.
If you don't find anyone near you, then switch your search to "home neurofeedback rental". Many businesses with rental units will ship systems to customers out-of-state.
Professional-grade neurofeedback equipment that you can use at home will offer some home guidance. With systems whereby protocols are being set, it is required to have regular check-ins with the trainee to assess changes and to reset protocols. Quality sessions depend on regular communication.
With fully automated systems, i.e. NeurOptimal®, home guidance is not required but often helpful for answering questions and discussing the number and frequency of sessions.
Brain training in general is most successful when the gains from neurofeedback are supported by lifestyle changes that are good for brain health. Often the home guidance includes discussing changes to diet, sleep and exercise that can augment the training. A skilled neurofeedback trainer will wait until there are some gains from the neurofeedback, such as greater calm and ability to organize and focus, before discussing tweaks to lifestyle.
Why Rent From Neurofeedback Training Co.?
Brie, NYC: Neurofeedback has helped me manage my stress better and I feel more focused relaxed and happier – especially in social settings which was a nice surprise benefit.

Kathy, Colorado (family of four): Neurofeedback is

helping tremendously already! My child enjoys it so much now that she asks for it. Whomever designed the instructions, did an incredible job. They are very helpful. Thanks so much for all of your help!
Still not sure if NeurOptimal is for you? Learn how it works

Or click here to schedule a free 15-minute consultation.