NEUROFEEDBACK COLORADO
Looking for Neurofeedback in Colorado?
Learn how much neurofeedback costs, how it works and the best training options. We offer NeurOptimal Sessions in Denver and Boulder as well as neurofeedback equipment for rent or for sale.

Start Your Transformation Today!
Contact us to speak with a Neurofeedback Trainer, rent a unit or schedule a session.
---
Neurofeedback Cost
How much is a neurofeedback session?
A regular NeurOptimal® Session in Denver or Boulder, Colorado costs around $130.
How much does it cost to rent a neurofeedback home system?
The cost of renting a neurofeedback machine for home use range from $650-950/month plus sales tax if located in Colorado, New York, or California. It includes everything you need to do neurofeedback training at home. If renting a home system for a month, cost per session can be as low as $40 or $30 per day depending on what monthly plan you choose. View pricing here.
How much is it to buy a professional-grade neurofeedback system?
If looking to buy a NeurOptimal system for home or professional use, the cost of the system range from $7995 to 10,995. Many decide to rent first and then purchase a device for cost savings. As sales representatives for the makers of the system, we help both professionals and individuals choose the best option for you. Click here to learn more.
---
Meet Our Colorado Experts
We have partnered with two NeurOptimal Neurofeedback Trainers in Colorado, located in Boulder and Denver. Try a session at a reduced price before renting or buying the equipment. An in-person demonstration on how to use the rental equipment is also available when scheduling.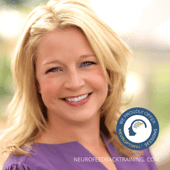 Denver NeurOptimal® Trainer Jennifer Tierney
After being introduced to NeurOptimal Dynamical Neurofeedback and having participated in regular sessions, I became a believer and avid supporter of the system and process. So much so, that I decided to become certified and start a neurofeedback practice, leaving behind a life as a senior executive in the corporate world.

Address: 19647 Solar Cir B-101, Parker, CO 80134

Schedule a session with Jennifer, fill out the form at the top
---

Kim Planansky, Colorado & Mid-West Rental Manager
Kim Planansky, MA is a certified NeurOptimal® Neurofeedback trainer and rental manager for the Midwest region. She holds a Master's Degree in Industrial/Organizational Psychology from Minnesota State University. Prior to receiving her training certification, she had been working in the management consulting field over 15 years, primarily analyzing and reporting on personality assessment data for employee selection and development purposes. She brings a holistic approach to her work and has a passion for helping people embark on personal transformation journeys through neurofeedback so they can be at their physical, mental and emotional best.
---
Can't find Neurofeedback Near Me? Rent a Home System
If you are not in Colorado or want to save on neurofeedback costs, click here or see below to learn how you can rent the system we use in our Colorado neurofeedback training centres. We ship the system directly to your home for a small shipping cost or pick-up is also available for free in North Denver.
Neurofeedback At Home
The NeurOptimal System we use for sessions is a fully-automated dynamical neurofeedback device and can also be rented monthly. The home system provides the exact same training as in-office sessions but at a lower cost. It's easy to use and when renting cost per session can be as low as $40 or $60 depending on what monthly plan you choose.
Cost of NeurOptimal At Home Rentals
Price range from $650 per month to $950 + CO sales tax. The home rental can be extended as long as you wish (another month or 2 weeks is available after the first month). Shipment is is free, both ways with insurance and return shipment. If located in Canada, shipment is a flat rate of $50 (includes return). Found a lower price? Ask us about price matching! Fill out the form on this page to get started.
Why rent a Neurofeedback at Home System
Get everything you need to do neurofeedback training at home. Renting a NeurOptimal home system is the most affordable and effective option to train brains at home! Interested in a rental? Click here or fill out a form at the top to learn the next step or talk to a trainer.
---
Related:
Neurofeedback at Home: Read This Q&A Before Renting a NeurOptimal System
---
Neurofeedback Equipment For Sale
As sales representatives for the makers of the system, one can also buy the system from us. The NeurOptimal system is for sale to both professionals and consumers. The two products are a Professional unit and a Personal home neurofeedback system. The lowest cost of a neurofeedback device is $7000. Financing available.
---
Neurofeedback Reviews
Reviews from Renters
Communication and rental was as easy as it gets. I rented the NeurOptimal device for one month and did ten sessions. I had completed sessions before with a trainer. Renting from Neurofeedback Training Co. was super easy and straightforward and I saw results dealing with my nervousness and worry. I am a believer of its effectiveness.
J. Colorado, Yelp Review
I've done 10 sessions or so with hopes of relieving my feelings of worry and fear. The improvements were initially subtle but I've found that in general I feel more relaxed and able to allow myself to enjoy my life without always needing to be doing something.
S. NY, Yelp Review
---
Related:
---
Why Neurofeedback Training With NeurOptimal®?
NeurOptimal® Neurofeedback is a 100% non-invasive, safe method for restoring serenity, confidence and wellness back into your life.
The neurofeedback equipment was invented by neuropsychologists and clinical psychologist team. NeurOptimal 3.0 is the only fully-automated dynamical neurofeedback device.
The design goal was to create a system that used precisely timed feedback to interact with the brain's organic ability to optimize its functioning, thus allowing it to be used safely and effectively at home. In 2018 the FDA recognized the NeurOptimal system as a General Wellness Device. This designation confirms it as safe and appropriate for home use and with children.
---
Related:
---
Commonly Asked Questions About Neurofeedback
How long is a NeurOptimal® Neurofeedback Session?
For in-person sessions, first-time appointments take an hour and subsequent neurofeedback sessions are 45-50 minutes. The NeurOptimal® neurofeedback program itself is 33 minutes long regardless if it is an in-office session or rental session. (The rental provides the exact same training)
Can Neurofeedback Be Harmful?
The NeurOptimal® neurofeedback system is not harmful. The FDA has approved it as a General Wellness Device, which means it is safe for consumers to use without the oversight of a health care provider.
What Are The Side Effects of Neurofeedback?
The the NeurOptimal system, which is a dynamic neurofeedback system that does not force a state change in brainwave patterns but rather works by giving each brain the millisecond-by-millisecond feedback about its maladaptive patterns.
Given the non-invasive design of the system the term side-effects is not applicable in the same way it is for medications where something is added to the body and could have adverse effects.
An analogue for the feedback process is being seeing your reflection in a mirror. If you see your head is tilted you'll most likely automatically straighten it. NeurOptimal alerts the brain that it is doing something and each brain will decide how to use the information it is presented with in order to optimize its own functioning.
The most common effect after a neurofeedback session is that clients report feeling calmer and relaxed. When clients have poor sleep hygiene and are exhausted they will often report feeling tired at the end of the session. This shift is a result of increased awareness and the client shifting out of a stress response. We coach these clients to pay attention to this shift as a communication of the need for more sleep.
---
Related:
---