BENEFITS OF NEUROFEEDBACK
NeurOptimal Is A Fully Automated Non-Invasive Neurofeedback System, Safe For All Ages.
After a set of neurofeedback sessions, clients report better focus and mental acuity, improved mood, more restful sleep. Scroll down or click here to learn more.
Table of Contents
Read straight through, or jump to the section you want to read:
---
WHY NEUROFEEDBACK TRAINING?
Brain Training with NeurOptimal helps you enhance...
Learning capacity and executive functioning mental acuity (feeling more alert, focused, calm)

Sleep management (more restful sleep, waking up feeling refreshed)

Helps you de-stress and manage stress better

Improves executive functioning, mood and let go of worries

Can help with anti-aging and brain fitness (peak performance, performance anxiety)
WHAT CAN I EXPECT FROM NEUROFEEDBACK TRAINING?
When the brain is trained with NeurOptimal® clients may notice the following:
Feeling calmer
Increased mental clarity
Dropping away of fears
More appropriate response to situations
Feeling lighter and greater ease (improved mood)
Increased motivation and ability to accomplish tasks

IS NEUROFEEDBACK EFFECTIVE? WATCH A VIDEO REVIEW
Neurofeedback training helped Jenny manage her stress better and other surprising benefits. Watch her review.
Jenny's Changes After 12 Months of Ongoing Neurofeedback Sessions:
Dramatic reduction in strong emotions of worry and anguish
More restful sleep
Greater tolerance for noise and other sensory input
Improved relationship with her husband: fewer fights and calmer communications
Improvement in mental alertness and focus
Read more reviews from clients
Why NeurOptimal?
The neurofeedback equipment we use at Neurofeedback Training Co. is called NeurOptimal. It is the worlds first and non-invasive brain training system that teaches self-regulation and helps build resilience and flexibility. This advanced brain training technology -- developed in part by, NASA-level engineers -- works by triggering what's called the orienting response, which is the brain's ability to sense change in the environment and take in new information about what is different.
Many NeurOptimal clients report life changing results, and the results of the neurofeedback training can range from dramatic shifts to more gradual progression. The more you train (like going to the gym) the more you will find stability and and emotional resiliency.
Here's a review from a client who rented a unit for two months and had life changing results: "Neurofeedback has totally changed my life. Within the first couple of sessions I could tell there was a shift in my mood and I had less feelings worry and anguish, feeling overwhelmed, and now after 18 or so sessions, I feel like myself again and have not felt this stable in my adult life. I'm so grateful for this service and wish more people knew about it!"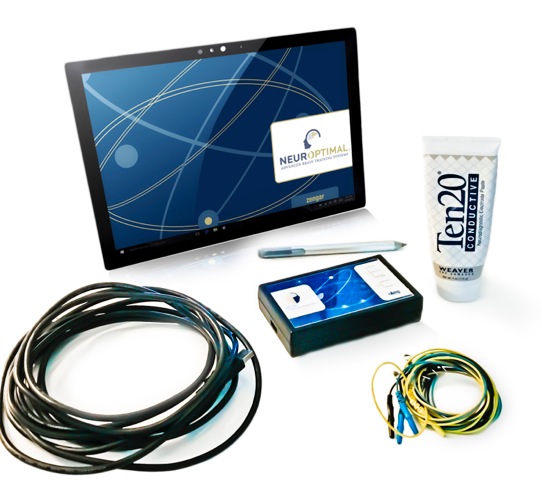 NeurOptimal is…
√ 100% Non-invasive (FDA Approved as a Wellness Tool)
√ Safe for all Ages
√ Effortless Brain Training
How much does neurofeedback Cost And What Are My Training Options?
If renting your own system, you can train as low as $50 per session or more. Minimum rental is one month and can be extended as long as you wish. The neurofeedback package plans range from $600 to $900. Renting a home system is the most cost-effective option. Learn more about renting a system.
You can also schedule a session at one of our locations. Cost per session range from $125 and up. First time clients get a discount on the first session. If scheduling a session, our Clinic in NYC, also provide combined neurofeedback and talk therapy.
The equipment is also available for purchase and cost range from $7000 and up. Learn more about buying the neurofeedback system.
---
Related:
It's not a matter of need but of want, but a report showing 1.2 million neurofeedback sessions clients indicate significant benefits after 11-20 sessions. Neurofeedback clients, on average, train for 15-25 sessions. Clients with multiple issues often want to train more and about 20% of our clients choose to purchase a system to use over years while their children are in school, or while the want the added support. It's a choice and we always recommend people train for as long as they are seeing benefit.
How do I know if neurofeedback is working?
Neurofeedback training with NeurOptimal is a learning process. You get results because you are actively learning, even if you are not doing the learning consciously. So much like reading, once your brain knows how to read, it can't "not know". Your brain doesn't forget. It may get rusty, but the effects of learning remain throughout your lifetime.
Once you've done training if you have a period of stress you may decide to do some "booster sessions." The wonderful thing is, a few booster sessions will get you back on track. And because you've done training before you will more quickly utilize the information NeurOptimal® is offering.
If you are going through a more difficult time, you can quickly do a session or two at one of our neurofeedback clinics in NYC, Pasadena, Portland, Denver or Boulder to recover your optimal flow and functioning. Our system is also available for rent per month. The home system rental provides the same training as in-office sessions and is the most cost-effective and convenient training option - especially for families or partners who want to train together.
Can Neurofeedback be harmful? Are there any side effects?
No, training with the dynamical NeurOptimal neurofeedback system does not create side effects. It's 100% non-invasive brain training. The system purely gives feedback to the brain about it's moment-to-moment brain wave activity and it will start to correct the ones that are maladaptive. Learn more about the system we use and a comparison chart of other neurofeedback systems.
Can I train neurofeedback when I'm pregnant?
Yes, absolutely. One important aspect to know about true neurofeedback devices such as NeurOptimal is that nothing is added to your system and therefore it's 100% safe. To learn how it works, and what sets NeurOptimal apart from other neurofeedback devices, see this page. Also, our NY neurofeedback trainer did neurofeedback while pregnant. Watch this video of her discussing the positive effects of neurofeedback training.