CORONAVIRUS COVID-19 COMPANY POLICY
We wanted to share with you the changes we made in order to best serve you safely during the COVID-19 pandemic.
A Molekule Air Purifier is available in each room, and all our staff are fully vaccinated and masked.
Click on the link or scroll down to learn more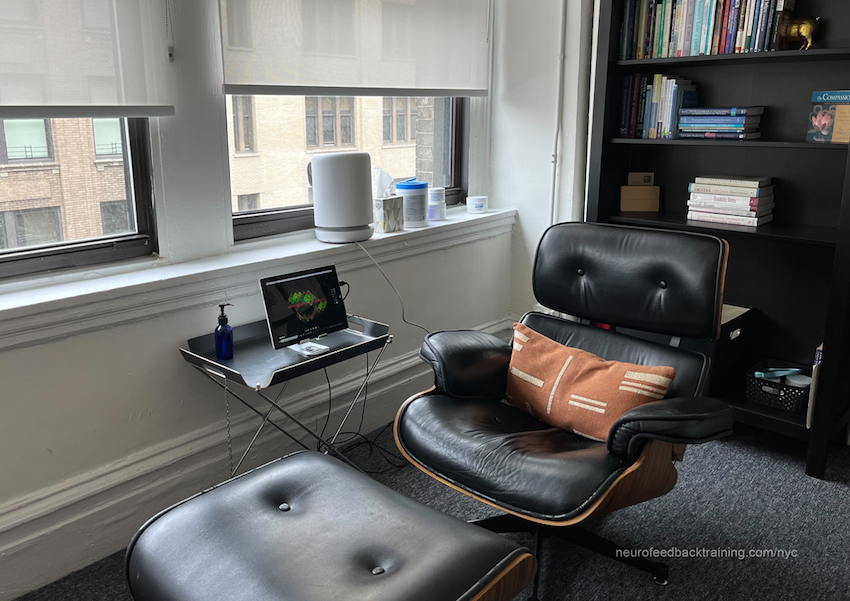 ---
COVID-19 Update and Practices for Neurofeedback Training Co.
In-Person Neurofeedback Sessions
NYC Neurofeedback Training Co., New York and Pasadena Location
Physical Distancing
When possible, trainer and client will be 6 feet apart, except during hook-up and unhooking of client, which will be done as efficiently as possible to then be able to establish physical distance.
Protective Equipment/Cleaning
Trainer and client will be required to wear masks while in the office.
All clients will be asked to use provided hand sanitizer upon entry.
We have Molekule air purifiers in each office. The company just completed research proving that their purifiers destroy COVID-19 in less than an hour!
All training chairs and surfaces will be cleaned in between sessions.
---
Common question:
What are some of the CDC recommendations for COVID-19?

CDC recommends that all people, regardless of symptoms, and whether or not they have had COVID-19 in the past, continue to take all recommended measures to prevent SARS-CoV-2 transmission (i.e., wear masks, stay 6 feet away from others whenever possible, and wash hands regularly). Learn more how to stop the spread of germs here.
Communication
Please do not come if you feel ill prior to your appointment. We will waive our 24 hour cancelation policy for illness during this time. Contact us here.
---
Neurofeedback at Home Rentals
The neurofeedback system we use for in-person sessions, NeurOptimal 3, is fully automated system and appropriate for home use. For clients who are vulnerable to COVID-19 we recommend renting a NeurOptimal unit and training safely at home.
Disinfecting Home Neurofeedback System Rentals
We have always maintained the highest sanitation standards for our home rental units. All systems are wiped down with disinfectant in between rentals, so this practice has not changed. In addition, to protect our staff and customers, our rental managers now wear masks and gloves when handling all units.
Inventory
Given the changes with shelter-in-place orders in most states we have seen an increase in home neurofeedback rentals. We are doing our best to get units to our customers in the shortest time possible. If there is a wait, we will let you know an approximate delivery date and send you updates every few days.
Our goal is to meet our customers' needs in the shortest time possible. We want everyone to have the benefit of NeurOptimal® as soon as possible in this very stressful time.
Shipping
Shipment throughout US is a flat-rate shipment at $90 ($75 if located in NY, CA or CO). The shipping cost includes, 2-day shipment via FedEx, shipping insurance and hassle-free returns.
We are also offering home pick-up from FedEx so that clients do not need to go out to return their system. Please remember to keep your box and return label for an easy return.
Fed-Ex is our carrier of choice and at times is operating 1-2 days slower than normal. You can see FedEx's updates here regarding changes due to COVID-19.
Signature is required. Please make sure to be home to sign for the package. Due to short of staffing at FedEx facility we ask clients not to re-route the package to an FedEx Onsite office (located at a Safeway or Walmart), rather it has to be a FedEx Office.
Free pick-up and drop-off is available at our location in New York City. Free pick up and hassle-free return shipment is included when scheduling a live demo session at our Los Angeles/Pasadena location. Local shipment within Los Angeles Metro Area cost $45.
---
Related: Home System Rental