Neurofeedback Cost
How expensive is neurofeedback? Learn all your options and the cost of renting or buying a NeurOptimal® home system, and price of a session in New York, California & Colorado.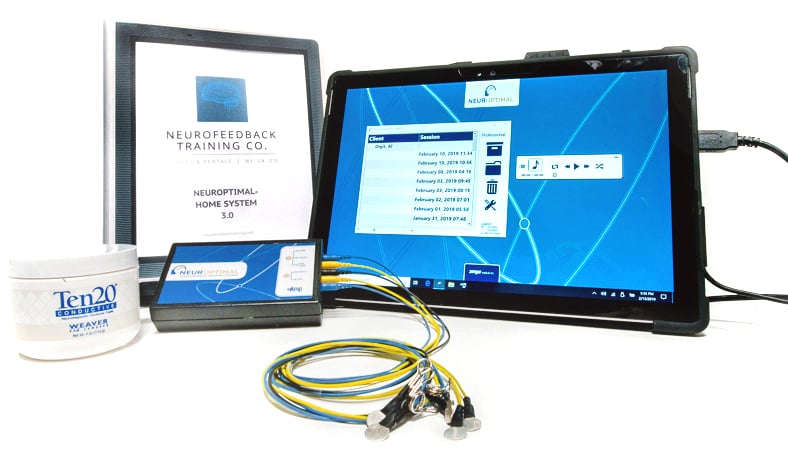 ---
RENT A NEUROPTIMAL SYSTEM
Renting a NeurOptimal home system is the most affordable and most cost-effective option to train brains at home! Get everything you need to do neurofeedback training at home. A rental coach will be assign to you to guide you along the rental period. Pay as you go! Plans can be upgraded or downgraded as you continue renting.
Choose from three monthly plans and cost:
Cost: $600*/month
*12 sessions included (= $50/session)
Ideal for one person training 3 sessions per week.
*Additional sessions: $25/session and billed upon return
Cost: $800*/month
*22 sessions included (= $37/session)
Ideal for two or more people or a person who wants to do more than 3 sessions per week.
*Additional sessions: $25/session and billed upon return.
Cost: $900*/month
Unlimited Sessions

Ideal for 2 or more people (up to 6 people) and for individuals who want to do more than 5 sessions/week. Great for families, partners or friends who want to train together.
* Sales tax applies for residents in NY, CA & CO. Shipping cost is not included in price. We now offer a flat rate of $75 within US (including return shipment plus insurance) and $100 to Canada (one-way). Free pick up and drop off at our locations in NYC, Denver and Northeast LA. If located in Seattle & Portland area get reduced shipment at $50 flat-rate shipment (both ways). We're happy to match any price! Read also; how our company responds to COVID-19

Want to talk to a neurofeedback trainer? We're here to help!
Contact us here or use the Chat Widget in the lower right corner to talk to chat with a neurofeedback trainer. View also our exclusive Renting Guide and learn what is included.

---
NEUROFEEDBACK SESSIONS COST
Cost per session range from $125 + depending on location and package plan. Discounts available for new clients! Try your first session at reduced cost
Our main neurofeedback training center is in NYC (Union Square) but we also have affiliates in Pasadena, California, Denver and Boulder, Colorado. At our New York City location our neurofeedback trainers are also licensed therapists and a neurofeedback session can be combined with talk-therapy.
LATEST COVID-19 UPDATE
---
NEUROPTIMAL® NEUROFEEDBACK FOR SALE
Price range from $7000 and up
We will help you find the best system for your needs, walk you through the purchase process, and schedule a time to review your neurofeedback equipment once it arrives to make sure you're up and running quickly.
Why purchase? Some clients rent first and decide they love the training so much they want to keep it as part of their on-going wellness plan. For others training multiple people it makes more sense to purchase than rent.
If renting first and then decide to buy, you will receive a $100 refund of your first month's rent.
---


NeurOptimal® has been designated a General Wellness Product by the FDA.
Latest NeurOptimal Neurofeedback Reviews
Clients either came in for a session or rented a home system:
"I learned about NeurOptimal from Bulletproof and sought out neurofeedback for peak-performance. I can now see why two months is recommended. At about the 10th session (renting for a month), I noticed a powerful shift in my mood and well-being. I'll definitely rent again or come in for booster sessions."

– Andrew, California
"Easy to use, cost efficient and extremely effective. My performance anxiety in social settings has taken a back seat."

– L., NYC
"I rented a Neurofeedback machine for 3 months and have been very pleased with the results. I feel calmer and more focused. I am very grateful to have had the opportunity. Sara and Kate were wonderful and responsive. Thank you very much."

- Kathy, Texas
"I rented a device for 2 months from Neurofeedback Training Co. in NYC. It was easy to set up as they have a book included and videos online that explain how to connect the electrodes and run the session. Within a few sessions, I felt less lethargic throughout the day. My sleep habits also got better, and I would wake up with less "grogginess".

Also, my stress levels throughout the day dropped (but it still can come up during stressful times, but I am learning to work on that with mindfulness techniques!). I am looking to rent again in the future when I can afford it and give time for these past 2 months of brain training to synchronize with my life.

I can highly recommend NeurOptimal and friends of mine who have just started doing it also have been having good results. One of my friends had issues with traditional QEEG neurofeedback and she found NeurOptimal to be much gentler and relaxing!"
---