Neurofeedback Cost
How expensive is neurofeedback? Learn all your training options and the cost of renting or buying a NeurOptimal® home system, and price of an in-person session in New York, California & Colorado.
The price to rent a neurofeedback home system range from $650 per month and up (most cost-effective option).
The cost for an in-person session range from $125 and up depending on the location (NYC, LA or Denver)
The cost to purchase the neurofeedback equipment (for home or professional use), range from

$7495

and up.
Scroll down to learn more.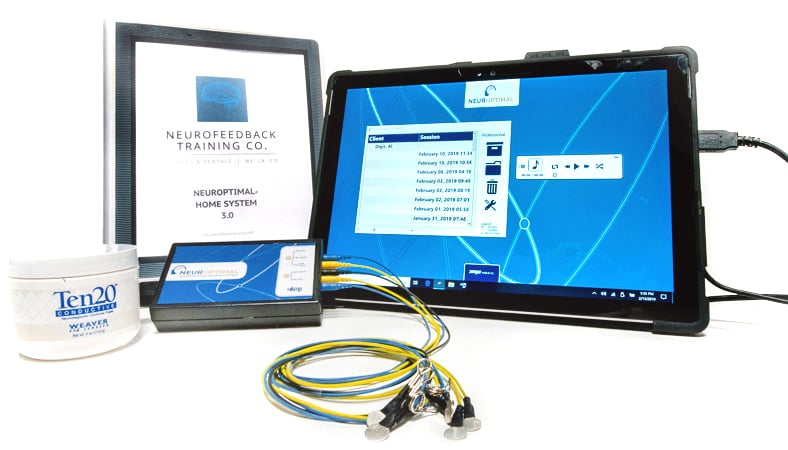 ---
Quick Links
---
Rent a NeurOptimal® System
Rent for a month; pay as low as $40/day
Why rent?
The most affordable option and provides exactly the same professional-grade system used in our clinics.
Rent for as many months as you want and pay as you go!
Get everything you needed for running successful sessions every time. Multiple people can train on one system, which makes it the best neurofeedback option for families.
Easy to use and effortless training! See how easy it is to set up here. Each rental comes with a step-by-step manual (exclusive to Neurofeedback Training Co. renters).
When renting from Neurofeedback Training Co. an experienced rental coach will also be assigned to you and available to answer questions throughout your rental period.
PERSONAL PLAN
Cost: $650*/month
**12 sessions included (= $55/session)
Ideal for one person training 3 sessions per week.
**Additional sessions: $25/session and billed upon return
FAMILY PLAN
Cost: $850*/month
**22 sessions included (about $40/session)
Ideal for two or more people or a person who wants to do more than 3 sessions per week.
**Additional sessions: $25/session and billed upon return.
UNLIMITED PLAN
Cost: $950*/month
Unlimited Sessions

**Ideal for 2 or more people and for individuals who want to do more than 5 sessions/week. Great for families, partners or friends who want to train together. If training more than 6 people, there is an extra charge of $50 to cover the cost of paste.
---
* Sales tax applies for residents in NY, CA & CO. Shipping cost is not included in price and flat-rate shipping cost via 2-day FedEx range from $45-125 (includes hassle-free returns). Pick up for free in NYC or when scheduling a session in Los Angeles (Pasadena). Shipping policy.
---
Ready to rent? Fill out the form to get started.
First come, first serve! At times we may have a waitlist. To reserve a rental make sure to follow through all steps (create a reservation and sign the e-contract).
See also our Renting Guide.
We're here to help!
If still deciding if neurofeedback is for you, watch our educational webinars. Want to discuss your options with an experienced trainer? Use the Chat Widget in the lower right corner (weekdays only).
Yes, I'm interested in a rental!
(STEP 1 of 3)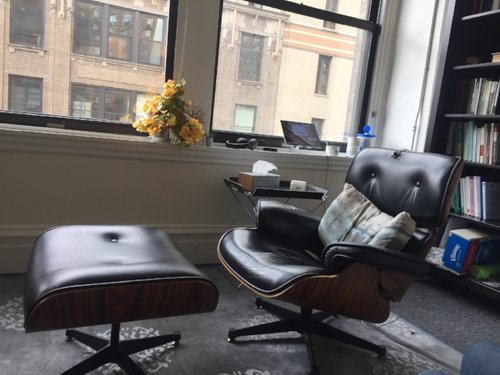 NYC office address: 32 Union Square East, S. 1017, New York, NY 10003.
Neurofeedback In-Office Session Cost
Depending on the location, price for an in-person session range from $125 - $160
NYC: $150 / session; 10-pack includes free 11th session
LA (Pasadena): $160/session (includes a live demo of a home rental)

Our main neurofeedback training center is in NYC (Union Square) but we also have affiliates in Los Angeles (Pasadena), Denver and Boulder, Colorado. Often our clients try an in-person session first before renting or buying a system. A demo on how to use the home equipment is also available upon request.
COVID-19 Update:
We continue seeing clients for in-office neurofeedback sessions at all locations with strict COVID-19 protocols enforced per CDC guidance. Our Advanced Certified NeurOptimal® trainers are fully vaccinated. Wearing a face mask during the in-person session is recommended. Learn more how our company responds to COVID-19.
---

NeurOptimal® Neurofeedback Equipment for Sale for Home and Professional Use
Price range from

$7495

and up

We will help you find the best system for your needs, walk you through the purchase process, and schedule a time to review your neurofeedback equipment once it arrives to make sure you're up and running quickly.
Why purchase the neurofeedback system?
Some clients rent first and decide they want to keep it as part of their on-going wellness plan. For others, training multiple people often it is most cost effective to own.
---
Latest Neurofeedback Reviews
"I learned about NeurOptimal from Bulletproof and sought out neurofeedback for peak-performance. I can now see why two months is recommended. At about the 10th session (renting for a month), I noticed a powerful shift in my mood and well-being. I'll definitely rent again or come in for booster sessions."

– Andrew, CA (Yelp Review)
"Easy to use, cost efficient and extremely effective. My performance anxiety in social settings has taken a back seat."

– L., NYC
"I rented a NeurOptimal Neurofeedback machine for 3 months. I feel more calmer and focused and I am very grateful to have had the opportunity to train my brain this way. Sara and Kate were wonderful and responsive. Thank you!"

- Kathy, Texas
---
Did You Know?
NeurOptimal® is the only fully-automated Dynamical Neurofeedback® device available today. In 2018, NeurOptimal® was designated as a General Wellness Product by the FDA. It is safe neurofeedback training for any brain!
---