NEUROPTIMAL NEUROFEEDBACK TRAINER TEAM
Neurofeedback Training Co. headquarter is in NYC. Our team of NeurOptimal trainers are located in Los Angeles, Denver, Boulder & Portland. The NeurOptimal at home equipment is also available for rent. Want to buy a system? As an official representative for Zengar & NeurOptimal, we can help you get started.
The NYC Neurofeedback Training Co. location is at 32 Union Square East, Suite 1017, New York, NY 10003. Our experienced neurofeedback trainer team in New York also offer therapy which can be combined with a neurofeedback session.
Scroll down or click here to get to know our neurofeedback trainers and therapists.
---
NYC Neurofeedback Training Co. NeurOptimal® Trainers
Address: 32 Union Square East, Suite 1017, New York, NY 10003
Natalie Baker, LMHC - NYC
NYC Psychotherapist, Advanced NeurOptimal® Neurofeedback Trainer and Founder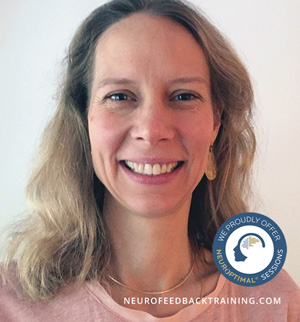 Natalie is the founder of Neurofeedack Training Co. and certified as an advanced NeurOptimal® neurofeedback trainer. She has been working as a psychotherapist since 1999 and has been a practicing Buddhist since 1991. Given her Western training in psychology and psychotherapy and her Eastern training in Buddhism and meditation, Natalie brings a broader perspective to mental health and well-being. In 2010 she added neurofeedback therapy to her practice to support changing negative habits on the structural or brain level. Natalie work on three levels: physical, psychological, and spiritual. Some clients want all three levels, some come just for the physical (neurofeedback training). Read full bio >
READ ALSO: "Why I introduced neurofeedback to my NYC psychotherapy practice…

Specialties: Neurofeedback, Therapy, Combined Psychotherapy and Neurofeedback Session also available.
NeurOptimal Representative
Want to add neurofeeedback to your practice or health care clinic?
Click here to learn more about purchasing a professional system for your clinic.
Heather Coleman, LMSW - NYC
NYC Psychotherapist, NeurOptimal® Neurofeedback Trainer and Life Coach
In our work together, we will use techniques from meditation, body awareness practices, neurofeedback, cognitive-behavioral psychology and solution-focused therapy, while continuously using your present moment experience as information for healing and growth. I have a respectful curiosity and compassion for all of my clients and will encourage you to approach yourself, your story, and mind in the same way". Read full bio here >
Popular blog post by Heather: How To Get Best Results From Neurofeedback? Consistency Is Key.
Alison Pepper, LCSW - NYC
NYC NeurOptimal® Neurofeedback Trainer, Rental Manager Coach (East-Coast) and Psychotherapist
Alison has over 5 years of experience working with English and Spanish speaking clients in NYC. She treats children, tweens, teens, emerging adults, adults, couples, and families who may be adjusting to life changes or dealing with mental health issues; with an emphasis on trauma informed work. Alison is interested in taking an integrative approach to therapy by combining clients needs with traditional Western psychology such as: talk therapy, play therapy, art therapy, internal family systems, and nature therapy with ancient Eastern traditions such as Tibetan Buddhism and Yoga.
Popular blog post by Alison: NeurOptimal® Neurofeedback Review: Training Others' and My Brain
Grace Tian, LMHC-LP - NYC
NYC Rental Manager Coach (East-Coast)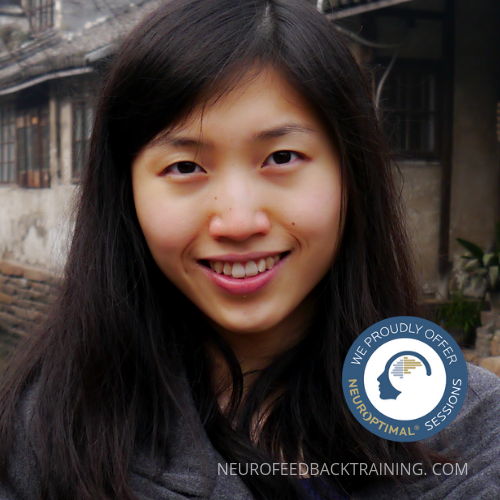 Grace Tian holds an MA and MEd degree in Mental Health Counseling from Teachers College, Columbia University. She is interested in the integration of meditation with neuroscience and is amazed by how their mechanisms enable a healing process through Neurofeedback. She developed her counseling skills during her clinical and research work at Archcare, Montefiore, and Memorial Sloan Kettering. As a mental health professional, she advanced her expertise in conducting clinical assessments, providing both individual and group counseling, coordinating provision of educational programs, and facilitating interactive workshops. She is looking forward to utilizing her counseling background and Neurofeedback to benefit mind and body wellness.
Phone: (908) 845-3378‬
---
NYC Neurofeedback Reviews:
"I almost couldn't believe how helpful the team at Neurofeedback Training Co. is. From my very first session, they made me feel safe and prepared for a change! After having a few sessions at the office I decided to rent a machine to train at home. I saw quick improvements with my sleep, then the rest fell into place. I would do it again in a heart beat. Highly recommend Natalie Baker."

"Talked to Natalie and Alison. They were incredibly helpful and helped me out with questions. I rented the system and pickup and drop off was smooth and simple. Thank you!"

Natalie Baker is one of our most experienced NeurOptimal trainers and therapists. Highly recommended!
CALIFORNIA NEUROFEEDBACK TRAINER
Sara St. John - Pasadena, CA
Certified NeurOptimal® Neurofeedback Trainer and Rental Manager Coach (West-Coast Region)
Sara started with neurofeedback training in 2011 and became a certified NeurOptimal® Neurofeedback Trainer in 2015. She is the rental manager for the west-coast region and provides sessions in Pasadena.
Phone: 323-686-2717
PASADENA/LOS ANGELES NEUROFEEDBACK
Specialties: Neurofeedback Sessions & Home System Rentals. Rental Manager for West-Coast States such as California, Oregon, Washington, Alaska and Hawaii as well as British Columbia in Canada.
Pasadena Location (sessions only): 28 N. Oak Ave, Suite 204, Pasadena, CA 91107
Los Angeles Location (Rental Pick Up Only): Northeast L.A. in Mt. Washington (15 min. from Downtown Los Angeles)
---
Los Angeles Neurofeedback Reviews:
"Sara was wonderfully knowledgeable, very accommodating, super conveniently located and the best price in town. I'd give 10 stars of I could." Read full review on Yelp

Neuro-feedback has helped me immensely. I did a lot of research and made a lot of phone calls before finding Sarah. She is absolutely amazing. She is understanding, kind, and responsible. Calm and serene. You can tell she actually cares about making a positive influence in someones life and not just a dollar. She is not pushy, and she is very informative. Competitive pricing, she could honestly charge way more. She keeps her clients because of her honesty, dependability, credibility, and care.

COLORADO NEUROFEEDBACK TRAINERS
Kate Linsley,
Kate Linsley, Denver, Colorado
Certified NeurOptimal Neurofeedback Trainer and Rental Manager Coach (Mid-West Region)
Kate has worked with Neurofeeedback Training Co. since 2011. After relocating from NYC to live in Denver, Colorado, Kate is now managing the rental program for Neurofeedback in Colorado and other states in U.S. while completing her degree in Nursing and keeping her two children out of trouble. If you are located in states such as Utah, Texas, Nevada, Idaho - Kate will help you throughout your rental month.
RENT A NEUROFEEDBACK HOME SYSTEM
DENVER NEUROFEEDBACK
Location: North Denver Neurofeedback Home System Rental pick-up and drop off available.
Specialties: NeurOptimal® Home System Rentals
Jennifer Tierney, NeurOptimal Trainer - Denver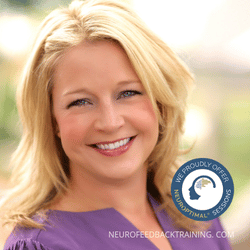 After being introduced to NeurOptimal Dynamical Neurofeedback and having participated in regular sessions, Jennifer became a believer and avid supporter of the system and process. So much so, that she decided to become certified and start a neurofeedback practice, leaving behind a life as a senior executive in the corporate world. Jennifer wanted to move beyond the stressful environment she felt had become her "normal" realizing, thru the use of NeurOptimal sessions, that this was possible. She has always been drawn to helping others, being involved in the community, and doing something she loves and believes in. Now her goal is to help everyone feel their best and to be the best version of themselves.
Joy Om, Boulder, Colorado,
NeurOptimal neurofeedback trainer Joy has a B.A. in Psychology and is a graduate degree in Special Education. Besides being a Certified Zengar Neurofeedback Practitioner she is also a Certified Advanced Rolfer (33 years) and a registered Biodynamic Cranio-Sacral Therapist.
NEUROFEEBACK & THERAPY
Available in NYC Only: Combine Neurofeedback and Talk Therapy!
Click here to schedule a therapy and/or neurofeedback session with our NYC Therapists Natalie, Heather or Alison.
COST OF NEUROFEEDBACK
OUR SPECIAL OFFERS ON IN-OFFICE SESSIONS
Get a reduced rate on your first neurofeedback session at any of these locations:
SAVE EVEN MORE IN NEUROFEEDBACK COST - BUY OR RENT A HOME SYSTEM
The equipment provides the same training as in-office sessions – only more cost-effective. When renting, a session can be lower than $40 depending on what monthly plan you choose. Pick up at any of our locations or have it shipped directly to your home.
Neurofeedback Rental Packages & Cost >
Neurofeedback Equipment also for sale. Get a discount if renting first and then buy. Learn more >