NEUROPTIMAL NEUROFEEDBACK TRAINER TEAM
Neurofeedback Training Co. offers NeurOptimal® neurofeedback sessions, psychotherapy and neurofeedback home equipment for sale or for rent.
Our experienced team of NY neurofeedback trainers also offer therapy which can be combined with a neurofeedback session. Headquartered in NYC, with locations in Los Angeles,(Pasadena), Portland, Oregon and Boulder, Colorado.
---
neurofeedback TRAINING CO. TEAM
NYC NEUROFEEDBACK TRAINERS
LOCATION: 32 Union Square East, Suite 1017, New York, NY 10003
Natalie Baker, LMHC - NYC
NYC Psychotherapist, Advanced NeurOptimal® Neurofeedback Trainer and Founder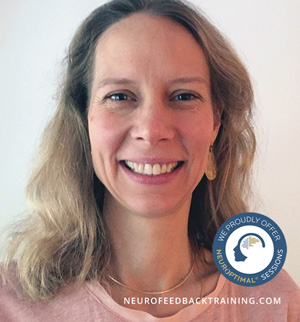 Natalie is the founder of Neurofeedack Training Co. and certified as an advanced NeurOptimal® neurofeedback trainer. She has been working as a psychotherapist since 1999 and has been a practicing Buddhist since 1991. Given her Western training in psychology and psychotherapy and her Eastern training in Buddhism and meditation, Natalie brings a broader perspective to mental health and well-being. In 2010 she added neurofeedback therapy to her practice to support changing negative habits on the structural or brain level. Natalie work on three levels: physical, psychological, and spiritual. Some clients want all three levels, some come just for the physical (neurofeedback training). Read full bio >
READ ALSO: "Why I introduced neurofeedback to my NYC psychotherapy practice…

Specialties: Neurofeedback, Therapy, Combined Psychotherapy and Neurofeedback Session also available.
NeurOptimal Representative
Want to add neurofeeedback to your practice or health care clinic?
Click here to learn more about purchasing a professional system for your clinic.
Heather Coleman, LMSW - NYC
NYC Psychotherapist, NeurOptimal® Neurofeedback Trainer and Life Coach
In our work together, we will use techniques from meditation, body awareness practices, neurofeedback, cognitive-behavioral psychology and solution-focused therapy, while continuously using your present moment experience as information for healing and growth. I have a respectful curiosity and compassion for all of my clients and will encourage you to approach yourself, your story, and mind in the same way". Read full bio here >
Alison Pepper, LCSW - NYC
NYC NeurOptimal® Neurofeedback Trainer, Rental Manager Coach (East-Coast) and Psychotherapist
Alison has over 5 years of experience working with English and Spanish speaking clients in NYC. She treats children, tweens, teens, emerging adults, adults, couples, and families who may be adjusting to life changes or dealing with mental health issues; with an emphasis on trauma informed work. Alison is interested in taking an integrative approach to therapy by combining clients needs with traditional Western psychology such as: talk therapy, play therapy, art therapy, internal family systems, and nature therapy with ancient Eastern traditions such as Tibetan Buddhism and Yoga.
Client Review: "Talked to Natalie and Alison. They were increadibly helpful and helped me out with questions. I rented the system and pickup and drop off was smooth and simple. Thank you!"
Alex Lambert, - NYC
NY Neurofeedback Training Technician & Certified NeurOptimal® Trainer
NEW YORK SPECIAL: Click here to get a discount on your first session!
Specialties: NeurOptimal® Neurofeedback Session
Saturdays Only
Client Review: "Alex was kind and thorough and I had a great experience"
CALIFORNIA NEUROFEEDBACK TRAINER
Sara St. John - Pasadena, CA
Certified NeurOptimal® Neurofeedback Trainer and Rental Manager Coach (West-Coast Region)
Sara started with neurofeedback training in 2011 and became a certified NeurOptimal® Neurofeedback Trainer in 2015. She is the rental manager for the West-coast Region and provides sessions in Pasadena.
Phone: 323-686-2717
PASADENA/LOS ANGELES
Specialties: Neurofeedback Sessions & Home System Rentals
Location: 28 N. Oak Ave, Suite 204, Pasadena, CA 91107
Client review: "Sara was wonderfully knowledgeable, very accommodating, super conveniently located and the best price in town. I'd give 10 stars of I could." Read full review on Yelp

COLORADO NEUROFEEDBACK TRAINERS
Joy Om, Boulder, Colorado,
4236 Piedra Pl. Boulder, Co. 80302
Specialities: NeurOptimal® Sessions
Joy has a B.A. in Psychology and a graduate degree in Special Education. She is also a Certified Zengar Neurofeedback Practitioner, Certified Advanced Rolfer (33 years) and a registered Biodynamic Cranio-Sacral Therapist.
Kate Linsley, Denver, Colorado
Certified NeurOptimal Neurofeedback Trainer and Rental Manager Coach (Mid-West Region)
Kate has worked with Neurofeeedback Training Co. and Neurofeedback NY since 2011. After relocating from NYC to live in Denver, Colorado, Kate is now managing the rental program for Neurofeedback in Colorado while completing her degree in Nursing and keeping her two children out of trouble.
NEUROFEEBACK & THERAPY
Available in NYC Only: Combine Neurofeedback and Talk Therapy!
Click here to schedule a therapy and/or neurofeedback session with our NYC Therapists Natalie, Heather or Alison.
SPECIAL OFFERS
Get a reduced rate on your first neurofeedback session at any of these locations:
SAVE IN COST - BUY OR RENT A HOME SYSTEM
Same training as in-office sessions only more cost-effective. Pick up at any of our locations.
Learn more about our Rental Packages & Cost here.
Neurofeedback Equipment also for sale. Get a discount if renting first and then buy. Learn more >