---
HOME RENTAL PACKAGES & COST
The most affordable and effective option to train brains at home!
To learn more about the renting process, Scroll down below to read commonly asked questions about the renting process and FAQ's.
Choose from three monthly training plans:
Cost: $600*/month
10 sessions included (=$60/session)
Ideal for one person training 2-3 sessions per week. (Additional sessions: $25/session and billed upon return).
Cost: $800*/month
20 sessions included (=$40/session)
Ideal for two or more people or a person who wants to do more than 2-3 sessions per week. (Additional sessions: $25/session and billed upon return).
Cost: $900*/month
Unlimited Sessions
Ideal for 3 or more people. Great for families, partners or friends who want to train together.
Here's a review from one of our rental clients:
"I rented the unlimited package. I was immediately impressed with the careful organization of materials and instructions. It is easy for a technological dinosaur like myself to use! The effect on myself is beyond adequate description. Daily increasing peace, focus, better sleep and especially less stressful response to the challenges I face."
– M., rented a home system for 2 months
* Residents of New York and California States will be charged sales tax for their home rental and any shipping charges. If in NYC, that rate is 8.75%.. Please note, shipping cost is not included in price. Pick up for free in NYC, Los Angeles, Denver or Boulder or have it shipped directly to your home for flat rate of $50 within US and $100 to Canada.
Read a Q&A below to learn more about the renting process.

Pick up a system at any of our locations or have it shipped directly to your home in 3-4 days.
Our main neurofeedback office is in NYC (Union Square) but we also have affiliates in Pasadena, California and Boulder, Colorado.
Price per session range from $125 + depending on location and package plan. Discounts available for new clients or if buying a 10 session package.
SCHEDULE A NEUROFEEDBACK SESSION >
---
BUY A NEUROPTIMAL NEUROFEEDBACK SYSTEM
Price range from $7000 and up. Learn more here.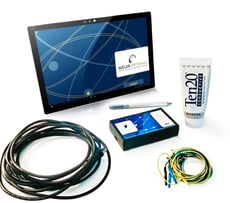 Why purchase? Some clients rent first and decide they love the training so much they want to keep it as part of their on-going wellness plan. For others training multiple people it makes more sense to purchase than rent. We will help you find the best system for your needs, walk you through the purchase process, and schedule a time to review your neurofeedback equipment once it arrives to make sure you're up and running quickly.
If renting first and then decide to buy, you will receive a $100 refund of your first month's rent.
PURCHASE A NEUROFEEDBACK SYSTEM >
---
NEUROPTIMAL REVIEWS
What our NeurOptimal renters are saying:
"Easy to use, cost efficient and extremely effective. My performance anxiety in social settings has taken a back seat."
"I rented a Neurofeedback machine for 3 months and have been very pleased with the results. I feel calmer and more focused. I am very grateful to have had the opportunity. Sara and Kate were wonderful and responsive. Thank you very much."
"I rented a device for 2 months from Neurofeedback Training Co. in NYC. It was easy to set up as they have a book included and videos online that explain how to connect the electrodes and run the session. Within a few sessions, I felt less lethargic throughout the day. My sleep habits also got better, and I would wake up with less "grogginess". Also, my stress levels throughout the day dropped (but it still can come up during stressful times, but I am learning to work on that with mindfulness techniques!). I am looking to rent again in the future when I can afford it and give time for these past 2 months of brain training to synchronize with my life. I can highly recommend NeurOptimal and friends of mine who have just started doing it also have been having good results. One of my friends had issues with traditional QEEG neurofeedback and she found NeurOptimal to be much gentler and relaxing!"
"I learned about NeurOptimal from Bulletproof and sought out neurofeedback for peak-performance. I can now see why two months is recommended. At about the 10th session (renting for a month), I noticed a powerful shift in my mood and well-being. I'll definitely rent again or come in for booster sessions."
---
Q&A ON RENTING A HOME UNIT
What's included in the home unit rental? Do I need to purchase paste or anything separate?
Our rental plans include all materials required to train (including paste), access to online support forum moderated by expert trainers, access to regular check-ins with staff trainer via text, email, phone or Skype. The only thing you need are your headphones! Watch our video how the rental package looks like >
Why the wait?
At times we have up to a two-week wait list. Why? Clients extend rental period, therefore we cannot always predict when we have a rental available.
PLEASE NOTE: We currently have no wait list at the moment. First come first serve. The sooner we have your paperwork in, the sooner your system will arrive!
Why is two-three month rental recommended?
After eight years of renting, the feedback we have received from our renters is that they experience the best training results when people train for 2 - 4 months, with 2 days' sleep between training sessions. If you rent for 2 months, that would look like 2-3 sessions per week, for a total of 20-30 sessions. Read also: How Many Neurofeedback Sessions Are Recommended When Renting?
What if I don't finish all the included sessions?
Sessions rollover to next rental period. If you haven't finished all your sessions in the first month, extend an additional 2 or 4 weeks after your first month's rental to allow more time to finish.
What's the cost of shipping? Is it included?
Shipping costs are not included and billed separately . Free pick-up available at at one of our office in NYC, Los Angeles or Boulder and Denver, Colorado. Flat rate shipping in US is $50 and $100 to Canada. If having it shipped within US it takes about 3-4 business days. If in Canada, shipment takes 5-6 business days.
Do we accept insurance?
No. We do not accept insurance. We accept credit cards, cash and checks.
When is payment due?
Payment is due the day of pick up or shipping arrangements has been made. We also now require two credit cards on file. One primary credit card and one as back up. The equipment is expensive and we don't require any deposits. If you pay by cash, we still need two credit cards on file in case there are additional session and shipping charges when the device has been returned.
What if I don't finish my sessions?
Sessions rollover to next rental period. If you haven't had the time to finish we recommend extending another two weeks (or month).
How long does it take to get the home system rental?
Depending on availability, the time range from three to four business if no wait list to approximately two weeks if there is a wait. Our current clients can extend their rental which many do since we recommend two month's training for best results. Therefore it is hard for us to predict a certain date. We will do our best to get a system to you as soon as possible. If in NYC, Boulder or Pasadena, you can also come in to the office and train at reduced rate. Learn more >
What if I have problems with the neurofeedback machine?
Reboot the system, and make sure all cords are connected including the power cord. If that doesn't help, contact your rental manager right away. We will then guide you in troubleshooting of the equipment and to get help from NeurOptimal's technicians remotely - at no extra charge. If a tech support does not resolve the issue, we'll send you a loaner, at no extra cost!
NeurOptimal® has been designated a General Wellness Product by the FDA. Learn more how it works >