SHIPPING POLICY
At Neurofeedback Training Co. we ship the neurofeedback home unit rental everywhere in the continental U.S.. We offer flat-rate shipping (2 business days) for only $75 on all orders via FedEx, which includes a return label and shipping insurance.
Signature is required to receive the package. Option available to ship it to your near-by FedEx location.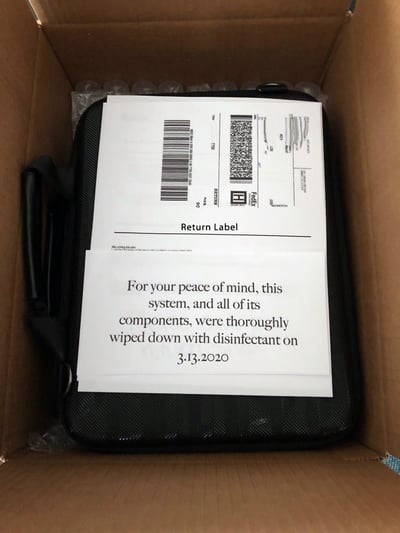 How our business responds to the coronavirus (COVID-19) concerns
All our rental equipment and its components are wiped down thouroughly with a disinfectant prior shipment. We ask our clients to do the same if possible and always keep the equipment clean while using it.
Good to know about your Shipment of the Neurofeedback rental
Signature is required. We cannot ship to a P.O. box. Enter your closest FedEx location address in your reservation and pick up in person
Please re-use the packaging material or buy your own if you no longer have the box.
Before a system is rented and shipped, not only do we clean all physical parts thoroughly but we also do software maintenance on the system to make sure it is up-to-date and working properly
Shipment to Canada
We also offer shipping to Canada at a flat-rate of $100 one-way (ground shipment 5-6 business days) with a 2 month minimum rental time. Please note that the return shipment is the renter's responsibility as we are not able to include return label for international orders.
Shipment to Europe or any other countries
If you'd like to ship to any other country, please reach out to us at info@neurofeedbacktraining.com for more information.
Pick Up Locations (NYC & Denver)
Pick up or drop off for free available at our locations in New York City, NY and Denver, Colorado. However, due to Coronavirus, our office is closed in New York City until further noticed. We offer free courier service for New York City residents. The pick up and drop off is available in North Denver via a secure lock box.
Shipment to Los Angeles Metro Area Residents and California
Flat-rate local shipment for $40 is available for residents in the Los Angeles metro area. If located outside of Los Angeles the shipping cost will be $75 flat-rate. Shipment cost includes return and shipping insurance. Shipping within Los Angeles metro area takes 1-2 business days via FedEx and signature is required.
Shipment to Portland, OR and Seattle, WA Residents
Flat-rate shipment for $50 is available for residents in Portland, OR or Seattle, WA. Shipment also includes return and insurance. Shipment takes 2-3 business days.
Shipment to Hawaii and Alaska
Shipment takes 4-5 business days. Due to the high cost of shipment to Hawaii and Alaska, two month's minimum rental is required.
How to Request the Neurofeedback Rental Equipment
To proceed with a rental, fill out the form here and proceed with the next steps. If reaching out on a weekend or holiday, we'll get back to you the following business day.
For more Q&A on the renting process, see this rental guide or use the lower right Chat Widget to talk to a trainer.