Services:
NY Neurofeedback Sessions & Home System Rentals for East Coast region
Contact
Address: 32 Union Square East, Suite 1017, New York, NY 10003

Phone: 631-397-1770
About Amy Yuan
Amy is passionate about psychology and its applications in visual art and writing. She is interested in the mind-body connection and how technology like neurofeedback can optimize well-being and awaken individual potential.
Amy has worked in educational, non-profit and counselling settings with a wide range of populations from those with disabilities to college students.
She strives to bring creativity and multicultural awareness to her work and is fascinated by the transformative processes in those she works with.
Amy completed her graduate studies in Counseling Psychology at Teachers College, Columbia University.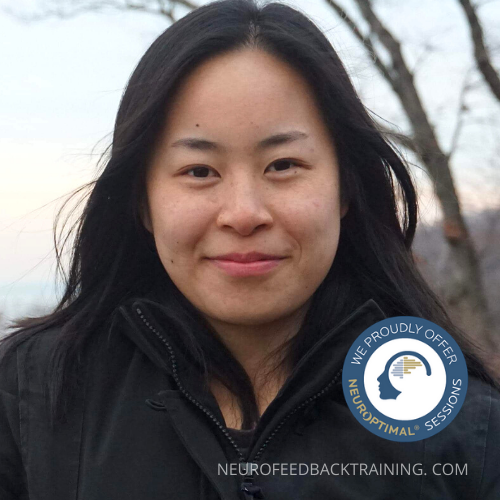 Schedule a Therapy and/or Neurofeedback Session
COVID-19 Update And Practices For Neurofeedback Training Co.
We wanted to share with you some minor changes we have made in order to best serve our clients during the COVID-19 pandemic.
Physical Distancing
When possible, trainer and client will be 6 feet apart, except during hook-up and unhooking of client, which will be done as efficiently as possible to then be able to establish physical distance.
We will not have more than one person in our waiting room area at a time.
Protective Equipment/Cleaning
Trainer and client will be required to

wear masks at all times

(cloth or surgical) while in the office. If someone comes without a mask they will be given a paper surgical mask to wear.
All clients will be asked to use provided hand sanitiser upon entry.
We have purchased

Molekule air purifiers

for the office. They will be running continuously and are effective in removing bacteria and viruses from the air.
All training chairs and surfaces will be cleaned in between sessions.
Blog Articles Written by Amy
Best Brain Training in NYC: People in NYC are always looking for ways to grow, innovate and inspire. Brain training is a tool that can boost cognitive and emotional fitness, reduce stress, and promote healthy sleep habits. Learn about the best practices to train your brain in New York City. Continue reading article