NeurOptimal® Reviews
Read testimonials from clients.
Latest NeurOptimal® Review from a mother in Denver, Colorado who trained together with her kids:
We had a great home neurofeedback rental experience. It was nice to speak to a neurofeedback trainer personally throughout the month. We all benefited from the NeurOptimal sessions. I feel a lot calmer and my children are more focused and sleep better.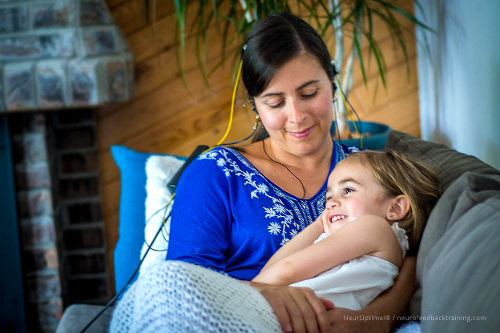 Neurofeedback training at home for a mother and her child. Read our renter's guide.
Neurofeedback at Home Reviews from 2022
Review from a mom in Oregon:
I rented the neurofeedback training kit for my son and I for one month and experienced profound results. I have a lot of 'adverse childhood experiences' that I have been to therapy for, do daily meditations to manage, and have a rigorous mindfulness for. The changes I saw from 1 month of neurofeedback training was equivalent to 1 year of all the tools I use combined. I will likely make this a yearly ritual. I highly recommend this to anyone seeking to be a better person and transcend the patterns of their past.
Review from a couple in Los Angeles renting a home system together:
My wife and I rented the training kit for two months, and we have both noticed differences, big and small. Personally, it has been easier to focus, and I find myself being able to stop negative thought patterns in their tracks, when those same thoughts used to spiral out of control and usually ruin my day/week. It's a subtle change, but it is certainly noticeable, and has definitely made an impact on my mental wellbeing. My wife has noticed a lighter, improved mood and is falling asleep faster. We've also both been less reactive and more able to access our "logical brains," which has brought a wonderful sense of ease into our lives. Overall, we'd recommend the program and working with Sara, and we plan to do some booster sessions in the future.
Review from a caregiver of four in California:
Hi -- Im happy to share my own experience as I got better results than I expected. I have a toddler that had trouble going to sleep at night. Every night at 10 pm, she started crying out loud and couldn't stop until 1 am. She used to take a break and start crying all over again around 4 am lol. 2 weeks after initiating the neurofeedback training, she started going to bed around 9 pm and eventually 8 pm. Sometimes she used to fall asleep during the brain training session. I have another child that was getting poor grades at school. He had trouble focusing and critical thinking was a challenge for him. He started the training as well . His grades are improving and he loves participating in his online class now. Finally, my mom. She didn't have energy to do anything around the house. I told her about the neurofeedback training and at first she didn't believe in it. When she saw the little one going to sleep earlier, she decided to give it a try. She said that she started feeling better after 2 sessions. Now she gets up every morning and spends more time with us. Thank you for providing this beautiful technology and making it available families in need like mine. This have changed our lives. As a main caregiver, I really want to thank you for making our lives easier and more enjoyable. I wish we would've done it long time ago. Thank you again.

More Neurofeedback Reviews from Renters
Family in Honolulu, Hawaii Rented for 2 months:
Rented a NeurOptimal unit from Neurofeedback Training Co.. It arrived promptly by mail, was easy to set up and use, the included materials were self explanatory, and my few questions were promptly answered by email. I noticed more "spaciousness" and less mental chatter after using it for a few days, and the improvement continued for the two months that I had the unit. Return was simple too with the provided return label. Very good product, good service on the rental. I'm inclined to rent again.
Renter in North Carolina. Training for 2 months and on-going
Awesome people to work with and so knowledgeable!! The home system was easy to set up and I appreciate having the help from a neurofeedback trainer whenever needed.
Client who did in-office sessions in New York and then rented:
Thank you for checking in. My training is going well, I've done two at home sessions so far. Third will be tonight. I did 21

in-office sessions in NYC

prior to the home rental. I'm definitely feeling calmer, more clear headed (sometimes), and more focused (sometimes). I'm still have trouble sleeping and fall into depression, but I notice an improvement in my mental state and response to external conflicts. Overall I notice positive internal change, but there is still plenty of room for improvement.
Renter in Connecticut, rented for three months:
The positive shifts in my outlook, and my ability to stay focused, and thought clarity has been noticeable. I, too, had skepticism at first, but after three months of renting a system from Neurofeedback Training Co., I entirely am free of any doubts, as I haven't felt this good for the last 10 years!! (Facebook Review)
Renter in Los Angeles, California. Rented for 1.5 months:
I rented the equipment for a month, process was smooth and fast. Sara made sure to check in with me to make sure I was seeing the benefits and provided suggestions along the way. After a month and about 12 sessions I saw a great improvement in my sleep, fell asleep fast and able to go back to sleep even if I woke up at night. Highly recommend it! Read Yelp Review
Family with teenagers in Portland, Oregon, rented for 2 months:
I rented a unit for six weeks and did sessions every other day, as did my 15 year old daughter and 13 year old son. I primarily rented to the unit for my children, but decided to also use it myself. It was easy to set up and use. My children did around 20 training sessions and I did 25. I noticed my daughter became more relaxed and balanced and my son was more energetic and verbally expressive. I also felt a shift in myself toward being more relaxed and able to handle challenges. Besides parenting I am a teacher, so being able to stay present and at ease during chaos is super important and I notice a nice change in this regard. Overall, I believe it was worthwhile to rent the unit and we achieved some positive shifts in our family. Read Google Review
Washington State family of four, rented for 3 months:
We had a great rental experience being able to speak with a neurofeedback trainer personally and communicate so quickly was very nice. All of us benefited from the neurofeedback training sessions so thanks again!
- Family of four in Washington State, Rented for 3 months
San Diego Therapist who rented for 3 month and then again in a year for a month:
"I rented a Neurofeedback machine for three months and have been very pleased with the results. I feel calmer and more focused. I am very grateful to have had the opportunity. Sara and Kate were wonderful and responsive. Thank you very much!"
---
"Please extend the rental. I am so enthused with what has happened in one month. I am in a bit of a dis-belief. I have pled for years with my husband to get help for his mind. And the last couple weeks have been amazing. He is willing to admit he needs help. Childhood pain is being released. This is amazing!"
– Neurofeedback Renter in Denver, Colorado
I rented the equipment for a month, process was smooth and fast. Sara made sure to check in with me to make sure I was seeing the benefits and provided suggestions along the way. After a month and about 12 sessions I saw a great improvement in my sleep, fell asleep fast and able to go back to sleep if I wake up at night. Highly recommend it!
– Rachel, Irvine, CA. Review from Yelp
"I rented the home system, and I did a session every day for about 3mo. I noticed PROFOUND changes: changes in behavior, thinking, and habits that I had been working on for years unsuccessfully. My sleep schedule went from staying up all night literally & just super erratic sleep schedule. Drinking 1.5 liters of coffee a day, just being super disorganized. Now I am WAY more organized, and I even make my bed every morning just kind of naturally. Just stuff I want to do or like problems that need to be handled or outstanding / past due actions that need to be done. It was a win for me. I'm not suggesting it is a magic wand or will do all the work for you, but my results were pretty amazing."
– A. in Los Angeles. Rented a home system for 3 months and then purchased a system. Review from Yelp
"Ellie has used the machine twice and it's helping tremendously already! Whomever made the instructions, did an incredible job. They are very helpful. Thanks so much for all of your help!"
– Neurofeedback Renter in Oklahoma, Texas
Mother explaining how it helped her 16 year son with emotional regulation:
"In the beginning the benefits of the training would last for a bit, but then revert back. However, after 8 sessions it lasted for 2 days. After session 11, I noticed a significant improvement - he came downstairs later in the day and said he was just able to sit and work on a project he had been avoiding for 2 days. He's now been getting himself up in the morning by 9am to work on a song writing instead of sleeping until 12pm and being mad at himself later. Also, he's been able to make himself go to bed at a reasonable hour. Other changes I have noticed with him are that he is softer, more open, far less easily irritated, and is starting to seek out conversation and connection with us. Yesterday after he told me about being able to focus more I was amazed. When he left the room I sat on the couch and cried from relief because I realized he could now potentially have quality relationships and attachments. This is definitely a game changer. I am sold.
Family in Florida rented a unit first and then decided to buy a system.
"I originally sought neurofeedback training for my daughter who is 8. She has focus issues, receptive and expressive language delays as well as sensory issues. I scheduled a few training sessions for myself first in order to see what the experience is like. Alison explained that a rental is a cost-effective approach that also allows the whole family to train. I've always seen my daughter's issues as linked to my own anxiety as a parent so it felt great to have my intuition affirmed in neuro - language. Immediately I felt that the reduction in my anxiety as a result of training had positive ripple effects on my family.

My daughter experienced reduced sensory symptoms around sensitive areas (we can change her earrings now without a 20 minute anxiety attack) and she did her first forward roll in gymnastics the other day as well as jumped in the swimming pool for the first time (she was always too nervous before). The two months we rented also coincided with increased clarity and confidence in reading in school as well as marked verbal expression around focus and "difficulties with focus."

My 5-year-old son used the most sessions ~ requesting them often "because it feels good" and demonstrated increased receptivity to redirection & increased awareness on his part around his behavior as it connects to his emotions. Training opened a window that helped me start to experience a reduction in symptoms that I really wasn't able to identify until they were absent. My own experience as a result of training involved the capacity for increased clarity in verbal communication and tolerance of conflict as well as a reduction in my tendency to procrastinate because of perfectionistic ideals which have increased my bandwidth as a parent and at work. It's an amazing experience that I hope to continue to generalize.

This method feels safe & contained in a way that allowed me to feel like we have done enough training over 2 months that we can stop but I also feel like we will pick up again sometime in the future."
– Family in Arizona rented a home unit for 2 months, training together.
---
Related:
My son who is 8 years old, was feeling stressed about school. He wasn't sleeping well and was feeling emotional, especially around homework. I decided to rent a neurofeedback home system to save in cost. I gradually started seeing changes in behavior. These changes was very subtle, from sleeping better to being more at ease in stressful situations such as getting ready for school, and finish homework. One morning after doing a session the day before, my son woke up and thought he had slept for two days. I've noticed after a session he wakes up happier.

– Sandra, 20 Sessions each for both son and mother, Rented for 2 months
I've used neurofeedback for 2 months for performance anxiety and to boost my confidence - training 2 times a week. I'm becoming noticeably more comfortable in both personal and professional situations, hooray! It feels great to have found a tool that has truly helped move the needle on issues I've been experiencing (and trying to resolve in various ways) for years. I liked my neurofeedback home rental experience so much that I ultimately decided to purchase a system. Thanks! :)
– Karen, rented for two months and then purchased a home system
"I've been doing my neurofeedback twice a week and that with my weekly massage, is definitely making it so I'm handling work, not getting overwhelmed by it."
— J.C., CEO of start-up (Rented a Home System for 2 months)
"I was looking for neurofeedback near me and found a way to rent a home system instead. This is by far the best investment in self improvement I have ever made! I don't lose my temper at the drop of a pin anymore. I still get annoyed or upset, but I haven't yelled, felt overwhelmed, or flooded since I rented the system. I chose to do a month of unlimited training, and added on 2 extra weeks. I returned the system a month ago and all the benefits remain. I'm still not flooded by anger. My teenager can't push my buttons anymore. I don't get overwhelmed by traffic. I'm still impatient, so I think I'll do some booster sessions, but the change in my demeanor is so noticeable, it's just crazy."

S. From Yelp: Neurofeedback Los Angeles
"Neurofeedback training has been a great way for me to manage my stress better and helped me engage more intimately with the present moment. At first glance the setup may seem foreign-- little plugs on your ears and head-- but it is very easy and straightforward to use. It takes around 30-40 minutes each session. There is also great music played while the machine monitors your brain activity. Within five to ten minutes of starting each session, I find myself calm and more relaxed. Any agonizing thoughts greatly dissipates and I feel more present! Likewise, I am more at ease accomplishing my daily tasks after I do a session. After about six or seven sessions, I started to notice these short-term effects playing out in my day-to-day life, even when I hadn't completed a session on a particular day. Living in Los Angeles as many of us know, can be very stressful and this has proven to be a great support to my busy lifestyle. I continue to use neurofeedback regularly and I highly recommend it to anyone that is interested. Truly a great way to stay focused and feel more present in life!"
– Thomas, rented a home system for two months and then bought a system
---
reviews from parents describing how their kids have benefited from the training
My six year old son really enjoyed the neurofeedback training. It's been over three weeks since he did a session but he still remembers how it made him feel. Yesterday he watched a scary scene in a movie (the story of Bambi). He burst into tears, came sobbing to his mom and asked if he could do the "music thing".. that is, NeurOptimal.
– Sandra, Rented a Home System for 1 month (Family Plan)
---
Read Article:
"I rented the home unit (unlimited package). I was immediately impressed with the careful organization of materials and instructions. It is easy for a technological dinosaur like myself to use! The effect on myself is beyond adequate description. Daily increasing peace, focus, better sleep and especially less stressful response to the challenges I face."
– M. W. Rented a Home System for 2 months, Unlimited Sessions Plan
"I looked forward to each treatment and as a result I feel more relaxed, calmer, and less anxious. In addition, I believe I am more focused and content. I would highly recommend your modality to anyone."
– Bill, NYC (rented the Home System for two months, 20 Sessions)
I almost couldn't believe how helpful the team at Neurofeedback Training Co. is. From my very first session, they made me feel safe and prepared for a change! After having a few sessions at the office I decided to rent a machine to train at home. I would do it again in a heart beat. Highly recommend Neurofeedback Training Co.!
– A. , Home Unit Renter in New York
"I rented the neurofeedback home system for one month and it was very easy to use. After 14 sessions, I felt more energized - more able to concentrate. Things that in the past would have bothered or depressed me, now just seem to melt away. I'm more able to take charge. I'd highly recommend renting the home system."
– L.S., 65 years old, Home Unit Renter for 1 month in New Jersey
---
Find us on Yelp:
---