NEUROFEEDBACK AT HOME RENTAL GUIDE
Neurofeedback Training Co. has provided NeurOptimal® home system rentals in USA since 2011.
This exclusive guide explains what's included, how to set up the rental at home and why rent from us.
Ready to rent? Click here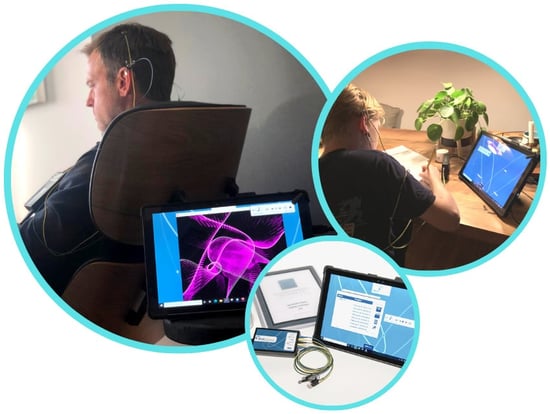 Table of Contents
Read straight through, or jump to the section you want to read:
---
Why NeurOptimal® ?
NeurOptimal® is a fully automated neurofeedback system specifically designed for home use.
When you rent a NeurOptimal system, you would be able to train your brain on your own schedule in the comfort and convenience of your home. It is also more affordable as you can train more than one family member, and also train multiple times per week. Use the NeurOptimal Home Unit at your time, place, and pace. The cost of a neurofeedback at home rental range between *$650 to $950 per month and depends on how many sessions you would like to do each month. Families or partners often rent the Unlimited Plan. The cost for a session is then lower than $60.
*Please note: Sales tax applies to residents in NY, CA and CO. Flat-rate shipment is billed separately and including hassle-free returns. The cost of two-day shipment via FedEx range from $45 to $90 within U.S. and $150 flat-rate to Canada.
why choose NeurOptimal® over other neurofeedback Systems?
Top Reasons Why:
Professional-grade and fully automated neurofeedback system

No diagnosis, no expensive brain mapping or trainer expert needed as the expertise is built-in. This advanced neurofeedback training does not push or force the brain - it simply offers information. The brain does the rest, naturally. View this comparison.

100% non-Invasive neurofeedback technology

NeurOptimal® is the only Dynamical Neurofeedback™ system on the market and safe to use by anyone and at any age. Watch our video on what happens in a session here.

The most effective and affordable neurofeedback training available

The rental is the most cost-effective neurofeedback training option, especially for families or partners who want to train together. It is also the most convenient option (no appointments to make) and it is very easy to use. (click here to watch a set-up video). The rental is the exact same system used in our in-person sessions.
---
Related:
NeurOptimal® Neurofeedback Explained: Watch our Webinar
---
Why Rent From Neurofeedback Training Co.?
As the largest NeurOptimal® home rental provider we offer the best pricing of NeurOptimal® rentals in USA and Canada.
6 Reason Why Renting From US
Lowest rental prices in U.S.!. Choose between Personal Plan at *$650/month (includes 12 sessions), Family Plan at *$850/month (includes 22 sessions) and Unlimited Plan at *$950/month (unlimited sessions). *Sales tax applies for residents in NY, CA & CO.

Includes everything you need to do effective neurofeedback sessions at home.

The home kit includes

p

aste, a printed step-by-step manual (exclusive to Neurofeedback Training Co.) and one-on-one guidance and weekly check-ins from a neurofeedback training coach. Learn how easy it is to set up by watching this 3 minute set-up video

.

All our rentals includes the latest software and update, NeurOptimal 3. In addition, it is regularly maintained by a NeurOptimal® technician.

Pay as you go! Keep the rental as long as you wish. Unused sessions rollover to the next rental period and the plan can be upgraded or downgraded after the first month. We also offer a two week rental period after the first month's rental if unable to rent an additional month. We recommend two months or more for best results but the minimum rental period is one month. Watch this Q&A Video: How many sessions do I need?

Convenient. 2-day shipment via FedEx. Pay a flat-rate shipping fee at $40. which includes shipping insurance. If located in NYC, pick-up is available also off hours. Pick up also available when coming in for a session. A demo on how to use it is also available upon request. If located in Canada, the cost is $50 each way, with a 2-month minimum rental.

Experienced Trainers and Expert Guidance. We have been renting out systems since 2011. You'll be assigned a neurofeedback trainer coach and get weekly check-ins. We also provide remote tech support if you have trouble with the equipment. Renters guarantee! If our tech support cannot help, we put the rental on hold and guide you in how to do a remote technical support call. If the remote technician is unable to fix the issue, we'll ship out a new one - at no extra cost!
Ready to Rent?

---
How to Start a NeurOptimal® Session at Home in a few steps
Natalie Baker, owner of Neurofeedback Training Co. and Advanced Certified NeurOptimal® Trainer show how easy it is to start a session at home.
Related Video:
Which Rental Plan Should I Choose? How many sessions should I do?
This is one of our top questions from clients who are considering neurofeedback training. In this video Natalie Baker, psychotherapist and NeurOptimal® representative explains what to consider before starting and during your brain training cycle.
When renting one can always upgrade or downgrade the plan. View pricing of a home rental here.
What Happens in a Neurofeedback Session: Do I Have to Watch the Screen?
A NeurOptimal® session is a relaxing experience and effortless. The brain does all the work. Since this advanced neurofeedback system is an automated brain training system no conscious effort is required on your part. A session is 33 minutes long and one can do anything during a session that does not require a lot of movement of the body or head. You can close your eyes, read, look at your phone or if feeling tired one can even sleep. The success of the training comes from the communication between the software and your brain.
---
Related:
---
Neurofeedback Reviews and Success Rates
This client came in seeking help for his irregular sleep patterns. For years he had difficulties with his sleep patterns. Here's his feedback.
[After 2 session at home]: "I tried it last night and everything went fine. I haven't noticed anything yet but hopefully in a week. I do notice however that I get mentally tired after each session. As if I've been studying for a finals exam."


[After 1 week of daily sessions]; "Last night I had 7.5 hrs of sleep which is more than my usual 3-5 hrs. It's been almost 2 years since I've had that much sleep."

[After 1 month of training, about 25 sessions]: "Training is going well. I can say that my sleep patterns has improved for the better."

– T.T. Los Angeles, Came in for an in-person session and then rented a system for 1 month
Reviews from our west-coast renters
Neurofeedback is a great way to improve performance and stay focused. Unit arrived on time and the team at Neurofeedback Training Co. made it easy to rent a unit and get started.
– Adam, California. Google review
Amazing experience! I felt more grounded, confident and my clarity greatly improved. The team was wonderful and the machine is very easy to use at home. I highly recommend Neurofeedback Training Co. and the NeurOptimal system.
– Wendy, Washington State. Google Review
My husband and I used the system together, and he reported substantial improvements in many areas, as well. It was amazing to experience the changes over time in how we related to each other more positively, patiently, and with more kindness. If you're in a partnership, I would highly recommend training together.
Eileen, Portland, OR. Yelp review
A busy parent to a teenage daughter in New York wrote us this review
I was looking for neurofeedback near me and learned that I could rent a system for home which was more convenient for the whole family. I was a bit concerned setting it up at home but whomever made the instructions, did an incredible job. They are very helpful. I trained together with my teenage daughter and after only using the machine for a week I noticed a change in her behavior. She seemed more focused and organized with school-work. After renting it for 3 months we see a change in mood; she's more engaging in conversations, more cheerful and at ease in social settings. Personally I noticed that whenever I did a session I would wake up in the morning ready to go rather than feeling sluggish and procrastinate tasks. I highly recommend the rental and appreciate all the support from the Neurofeedback Training Co. team.
- Cathryn, New York, NY
---