HOME NEUROFEEDBACK GUIDE
Table of Contents
Read straight through, or jump to the section you want to read:
---
Why Rent a NeurOptimal® Home System?
NeurOptimal® is the only fully automated neurofeedback system specifically designed for home use.
When you rent a NeurOptimal system, you would be able to train your brain on your own schedule in the comfort and convenience of your home. It is also more affordable as you can train more than one family member, and also train multiple times per week. Use the NeurOptimal Home Unit at your time, place, and pace.
why choose NeurOptimal® over other neurofeedback Systems?

Top Reasons Why:
Home Neurofeedback Cost
What is the cost of the home neurofeedback?
The cost of a neurofeedback rental range between *$650 to *$950 per month (plus sales tax to residents in NY, CO, and CA). Cost per session is $55 or less. We provide a free 2-day shipment via FedEx throughout the US and Canada (including return and shipping insurance). After the first month, clients can choose to simply return, extend, or switch plans, return or switch to a more affordable long-term lease. Families or partners start with the rent the Elite (Unlimited use) plan, and train 3-4 sessions weekly for three months or longer. View pricing and learn how to rent here.
---
LIMITED OFFER:
$151 off on the Unlimited Use plan + Free shipping! Get deal
---
Why Rent From Neurofeedback Training Co.?
We are experienced. We've been offering our brain training program for over 11 years and have served over 3,000 customers.
We are experts. All our coaches are Advanced Certified NeurOptimal Trainers and have also been through the brain training program.
We provide the best value. We price our programs to meet the needs of our customers.
We offer excellent customer service. We provide exclusive manuals and training videos. Chat window, text, phone, and email support are available.
We allow multiple people to train together and offer unique training suggestions for each person.
We care. Our team of experienced trainers will guide you through the renting period, review your progress, and make suggestions based on your goals. Coaching sessions are included in each rental.



Get a NeurOptimal home system in 1-2 business days. Free shipment via FedEx (also includes return)

Uncertain about which training option suits you best?
---
How to Start a NeurOptimal® Session at Home in a few steps
Natalie Baker, owner of Neurofeedback Training Co. and Advanced Certified NeurOptimal® Trainer show how easy it is to start a session at home.
Related Video:
Which Rental Plan Should I Choose? How many sessions should I do?
Natalie Baker, psychotherapist and NeurOptimal® representative explains what to consider before starting and during your brain training cycle.
When renting from us one can always upgrade or downgrade the plan. View rental costs here.
What Happens in a Neurofeedback Session: Do I Have to Watch the Screen?
A NeurOptimal® session is 33 minutes long and a relaxing and effortless experience. The brain does all the work. Since this advanced neurofeedback system is an automated brain training system and no conscious effort is required on your part.
---
Neurofeedback Reviews and Success Rates
After a single neurofeedback session, there is no "average" experience as each brain is different and the same brain is different in any given moment. Depending on many factors including your current state and how quickly your brain is able to learn new things, there are a range of possible feelings you may have after any given session. Some might report experiencing a sense of clarity, focus, or calm. Others might not notice any discernible change in the moment. What's important is to be in-tuned with your own internal evolution, rather than to compare it to an external standard, even if this can give an idea of progress. Listening to your body and mind is key to noticing how you are benefiting from neurofeedback.
As the brain can create maladaptive patterns in many areas of cognition and emotion, clients will train for a variety of different reasons. The most common are for support with executive functioning and learning, support with emotional regulation, sleep, and brain injury recovery. The improvements are best seen through the shifting of thought patterns, emotions and behavior changes.
Clients often report an overall and vague sense of "feeling better" and then through a more focused look at what is different notice that they are sleeping more deeply, less reactive to stressors, feeling more focus and ease with schedules. For those who are interested in research on neurofeedback, NeurOptimal® results have also been backed up by research which is available to the public on a number of different topics.
When starting with home neurofeedback, it's important to fill out our self-reporting checklist every 10 sessions. Part of success comes from building your awareness about what is shifting and what is still stuck. Using the checklist is a support for creating greater mindfulness. Some of the changes will come from you actively making better decisions and some will be seamless and not in your conscious awareness. Filling out our broad-ranging checklist helps you see the ones you didn't expect!
Below are examples of clients noticing results from one month of neurofeedback training at home.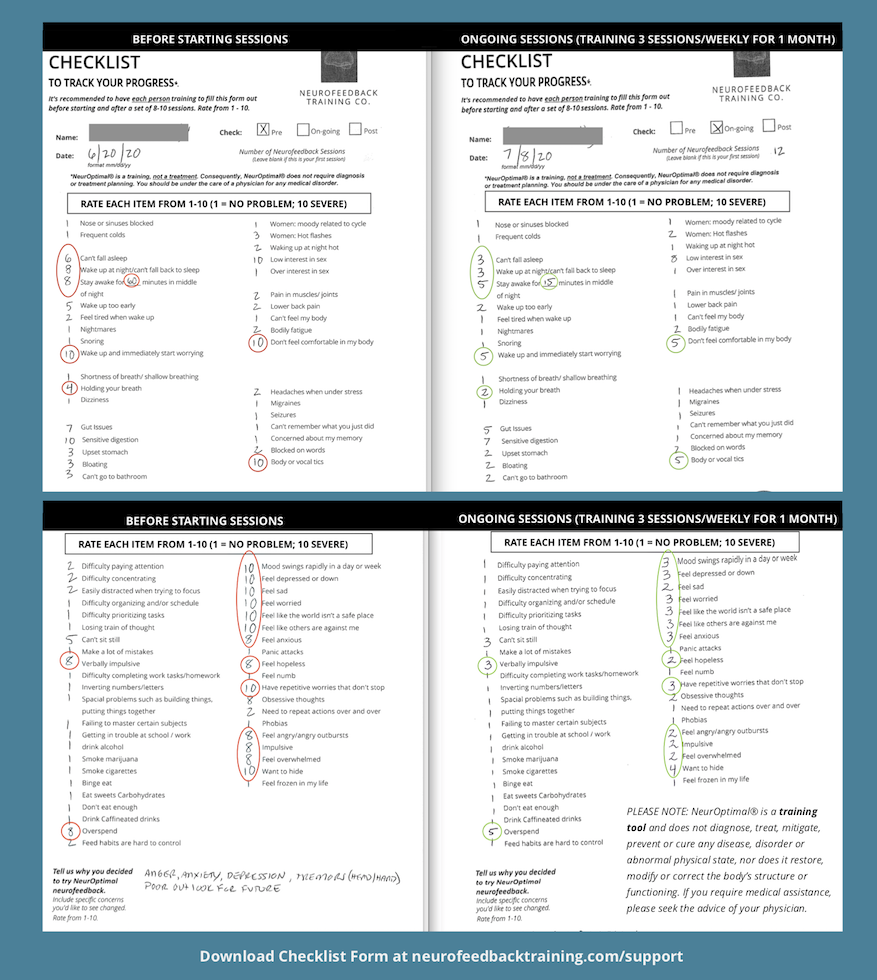 Success Stories from Home Neurofeedback Clients
This client came in seeking help for his irregular sleep patterns. For years he had difficulties with his sleep patterns. Here's his feedback.
[After 2 session at home]: "I tried it last night and everything went fine. I haven't noticed anything yet but hopefully in a week. I do notice however that I get mentally tired after each session. As if I've been studying for a finals exam."


[After 1 week of daily sessions]; "Last night I had 7.5 hrs of sleep which is more than my usual 3-5 hrs. It's been almost 2 years since I've had that much sleep."

[After 1 month of training, about 25 sessions]: "Training is going well. I can say that my sleep patterns has improved for the better."

– T.T. Los Angeles, Came in for an in-person session and then rented a system for 1 month
Reviews from our west-coast renters
Neurofeedback is a great way to improve performance and stay focused. Unit arrived on time and the team at Neurofeedback Training Co. made it easy to rent a unit and get started.
– Adam, California. Google review
Amazing experience! I felt more grounded, confident and my clarity greatly improved. The team was wonderful and the machine is very easy to use at home. I highly recommend Neurofeedback Training Co. and the NeurOptimal system.
– Wendy, Washington State. Google Review
My husband and I used the system together, and he reported substantial improvements in many areas, as well. It was amazing to experience the changes over time in how we related to each other more positively, patiently, and with more kindness. If you're in a partnership, I would highly recommend training together.
Eileen, Portland, OR. Yelp review
A busy parent to a teenage daughter in New York wrote us this review
I was looking for neurofeedback near me and learned that I could rent a system for home which was more convenient for the whole family. I was a bit concerned setting it up at home but whomever made the instructions, did an incredible job. They are very helpful. I trained together with my teenage daughter and after only using the machine for a week I noticed a change in her behavior. She seemed more focused and organized with school-work. After renting it for 3 months we see a change in mood; she's more engaging in conversations, more cheerful and at ease in social settings. Personally I noticed that whenever I did a session I would wake up in the morning ready to go rather than feeling sluggish and procrastinate tasks. I highly recommend the rental and appreciate all the support from the Neurofeedback Training Co. team.
- Cathryn, New York, NY
---
Have a question about neurofeedback? Talk to one of our expert trainers!
Use the Chat Widget in lower right corner or click here to schedule a 15-minute consultation. If reaching out via chat, please let us know your region or state so we can connect you to the right trainer.