LOS ANGELES NEUROFEEDBACK TRAINING: HOME RENTALS & SESSIONS
Looking for neurofeedback near me? Experience the Professional Grade, Side-Effect-Free Brain Training by NeurOptimal®.
We provide both in-person sessions in Pasadena and neurofeedback at home rental equipment using the NeurOptimal 3 device.
See below to learn the cost, how to schedule or inquire about a session or rental.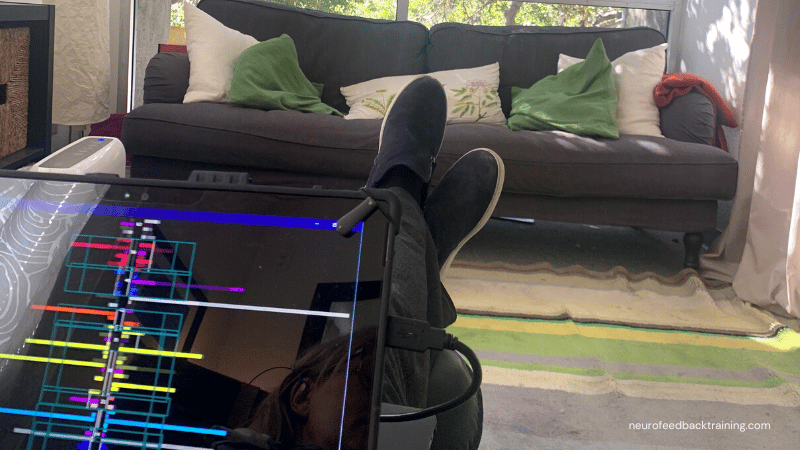 ---
What is the Cost of Neurofeedback?
The cost of a neurofeedback session at our Los Angeles office located in Pasadena costs $180 per session and includes a live-demo of a home neurofeedback system. If renting the professional-grade neurofeedback system, a package of 12 neurofeedback sessions costs $650 plus sales tax. We also offer a plan with unlimited use that families and/or partners can share.View our rental pricing here.
Los Angeles In-Person Sessions
Address: 28 North Oak Ave. S. 104, Pasadena (by appointment only). View directions.
How to Schedule: Fill out the form on this page
Not sure if neurofeedback is for you? Scroll down or read our testimonials from clients.
Meet Los Angeles Neurofeedback Trainer Sara St. John
The in-person session at our Los Angeles (Pasadena) location is with trainer Sara St. John. Sara became a Certified NeurOptimal® trainer in 2015 after seeing her own benefits from the training. Sara is also the rental manager coach for the West-Coast region and Canada. Over the years, she has managed over 300 home renters coaching them to get the most out of the brain training experience. Scroll down to read reviews from her clients.
Click here to out the form to schedule or to get in touch with Sara!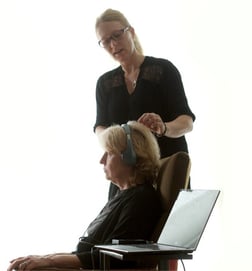 Los Angeles based Certified NeurOptimal® Neurofeedback Trainer Sara St. John applies the EEG sensors on a client. Scroll down to watch a video of an in-person session in Pasadena.
Latest Neurofeedback Reviews 2023
Parents recommend neurofeedback!
Here's a new Yelp review from a mother in California seeking help for her 17 year old with depleting worry and fear in social settings. She came in for a session first and got a live-demo on how to operate the system. Her teenage son fell asleep during his first session.
Neurofeedback training has significantly helped me and my son. The rental process was easy and Sara was great at explaining how to use the unit. We had no problems using the unit at home. The training greatly helped my son who has severe anxiety relax and sleep better. He started sleeping like a baby a few sessions in to our training. I also feel less stressed since starting using Neurofeedback. We will certainly revisit again in the near future. Thank you Sara and team.
Is neurofeedback worth the money?
Here's a review from a client in California who came in for a session and then decided to rent:
The Neurofeedback rental was easy to use, cost efficient and extremely effective for me. I am able to manage my stress better and feel more calm.
Surprised by the results!
This client, located in Santa Monica, California, had heard about neurofeedback from her therapist. She was looking for a way to ease her worry and fear during the 2021 Covid-19 lockdown:
Neurofeedback with this team has been such an incredible experience. Sara has been so kind and amazing, making this experience even better! I went in for feeling severe anxiousness, as I was having unexpected strong emotions triggered in certain social situations. From the first session these emotional attacks on my wellbeing subsided. Throughout the couple of months of neurofeedback, my worry and fear in social gatherings dramatically lessened. I used to have very physical reactions to group meetings, seeing old friends and anything that was a big deal for me. I would get massive rash, my heart rate soared and I had so much nervous sweat- until the last couple weeks (post neurofeedback) I have literally had no reaction in the 3 big meetings since then. I didn't even know that could be fixed! 100% I recommend take the step toward better mental health. I feel like I can function now.
- Ana A. in Los Angeles. Rented neurofeeback home system for 8 weeks (Read Yelp Review from April 2021)
Better sleep with neurofeedback
Diane from San Gabriel Valley came in for a session first and then rented a home system. She noticed immediate results after only a few sessions (please note: every brain is different in how they respond to the training. Read our blog post on how many sessions one may need here.
I had heard about neurofeedback from a friend years ago and since then always wanted to try it. I started with 3 sessions to give it a try and I am very pleased by the results. I do a lot for my health; I exercise and eat healthy. I knew neurofeedback training worked for me because after a few sessions I remembered my dreams for the first time in years.
— Diane, La Cañada Flintridge, CA
The power of consistent brain training
Carla in Glendale rented a system and comes in for booster sessions in Pasadena every 6 months or so:
Neurofeedback Training has helped me greatly with sleep issues, anxiety, energy and focus. It takes time and is an investment, but you will see results if you do it regularly. I noticed immediate results but also cumulative results when doing regular sessions. I did a large number of weekly sessions and now I just use it occasionally to rebalance. I use this in conjunction with other treatments and modalities which I find also helpful to do.
– C., Glendale, CA. Read full review on Yel
More Neurofeedback Reviews from Renters
Read excerpts from clients who rented the NeurOptimal System. Click on links to read full reviews on Google and Yelp.
Sara was absolutely wonderful from start to finish and beyond: highly supportive, flexible to work with my situation and needs. I came in for 3 sessions first and then rented a home unit. She had a number of suggestions during my 3 month rental process which helped me get the most out of my brain training investment.
S.P., Pasadena,. Read Yelp Review
This has been the best experience ever. To start off I have completed 19+ sessions and feel amazing. My thinking is clearer than ever, I notice my negative thoughts but they do not bother me. I able to let them go in a second. One of my observations was that my typing was much easer. I have been brushing up on my typing skills for months, after 4 sessions of NeruOptimal my speed increased by 10-15 words per min and my typing was much more fluid. Additionally, I have a son that was diagnosed with ADHD 6 years ago that has completed 8 sessions and he has made some really good improvements! to much to explain here but he has definantly made some big changes! Sara was the most amazing person to work with, her customer service skills are remarkable. I highly recommend Neuroptimal !!! This changed our lives.
– Michael, 2019 Google Review
I noticed PROFOUND changes: changes in behavior, thinking, and habits that I had been working on for years unsuccessfully.
– Andrew, Read full review on Yelp
Neuro-feedback has helped me immensely. I did a lot of research and made a lot of phone calls before finding Sara. You can tell she actually cares about making a positive influence in someones life and not just a dollar. She is not pushy, and she is very informative. I came in for a session and then rented to save in cost. I enjoyed it very much and keep coming in for "tune-up" sessions whenever I feel like I need one.
– S.T., Eagle Rock, Los Angeles
After a month and about 12 sessions I saw a great improvement in my sleep, fell asleep fast and able to go back to sleep if I wake up at night. Highly recommend it!
– Rachel: Read review on Yelp
I rented a Neurofeedback machine for 3 months and have been very pleased with the results. I feel calmer and more focused. I am very grateful to have had the opportunity.
– Morgan: Read full review on Yelp
---
About Neurofeedback Brain Training
What is Neurofeedback?
Neurofeedback is a form of brain training that was developed out of the discoveries of biofeedback. Neuroscientists discovered that measuring and tracking the brain's electrical activity, or brainwaves, was not only meaningful but could be used as a form of feedback to help correct or optimize the brain's performance.
The mental and emotional experiences people have are created through the brain's use of neuro-chemicals and electricity. Lack of mental focus when trying doing school work or worrying when it's time to fall asleep are examples of how the brain can get stuck in patterns of activity that don't benefit the individual in their current needs.
Only recently has the speed of computing technology reached a level that neurofeedback devices could be created. The speed of the brain's computing (think of electricity running through wires at a speed of milliseconds) can now be tracked by computers allowing this type of feedback system to created as a tool for brain wellness.
Neurofeedback Benefits
With sessions at our Los Angeles neurofeedback center, the client learns to reset the brain's negative patterns, allowing the individual to better manage sleep, emotional regulation and cognitive fitness such as focus and concentration.
Often clients report feeling calmer, more focused and relaxed at the end of a session. View our business page on Yelp to read client's reviews.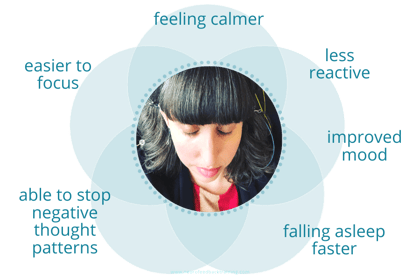 Our clients are adults and children of all ages. Each train for a variety of reasons. We see the best results in children when parents also have neurofeedback sessions.
Benefits may include:
Sleep management
School / academic performance
Executive functioning
Emotional fitness and resiliency
Mental fitness for anti-aging
Stress management
---
Why We Chose The NeurOptimal® Neurofeedback System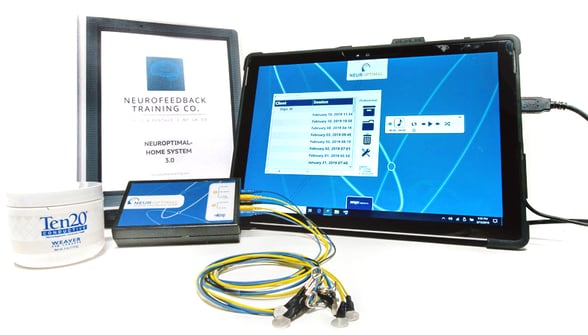 Our first neurofeedback center was in New York and opened in 2011. After 10 months of researching different equipment, we decided on the NeurOptimal® device because it met our needs to provide effective and safe neurofeedback while keeping the costs for clients as low as possible.
The NeurOptimal® system is also the latest generation of neurofeedback.
In the first generation, the skilled trainer would set protocols to encourage the brain to change its brainwave patterns to match those of a 'normal' brain. While somewhat effective, it has limitations in that it was taking a linear approach (the brain is a nonlinear system) and not using real-time data about the maladaptive brainwaves. Potential for creating side effects from over or under training was possible. It also proves difficult because it required guessing which maladaptive patterns to prioritize.
With the second generation, the advancements in computing power allowed the design of the system to shift to be synchronized with how the brain optimizes its own performance. The expertise moved from the external trainer to the individual's brain. This profound shift allowed the device to use real-time information about the maladaptive patterns, which is much more precise and valuable than using a QEEG or brain map that was taken months ago.
It also is fully automated and does not require an expert setting protocols session by session, making the home neurofeedback device a reality. This shift dramatically reduced the potential cost for clients making neurofeedback at home an option.
In Los Angeles, where location and time spent in traffic is an issue, being able to offer clients a home neurofeedback system is important to us. Neurofeedback training is a commitment and we want to ensure the greatest likelihood of success for our clients.
---
Learn More:
---
Neurofeedback in Social Media
Forms (In-Person Session)
Prepare for your first appointment. Download and fill out forms below prior to your first session
Consent Form (fill this out and bring with you to your first appointment)
Checklist of Concerns (pdf) We strongly recommend clients fill this form out to track ones progress. Fill this out prior to your first session and then after a set of 8 sessions. Rate from 0 - 10.