LOS ANGELES NEUROFEEDBACK TRAINING CO.
NeurOptimal Neurofeedback Sessions and Home System Rentals in California
Learn the neurofeedback cost, best training options and how NeurOptimal neurofeedback works and its benefits.
Schedule your appointment today at the Pasadena office located at 28 North Oak Ave., S. 204, Pasadena (close to Pasadena City College).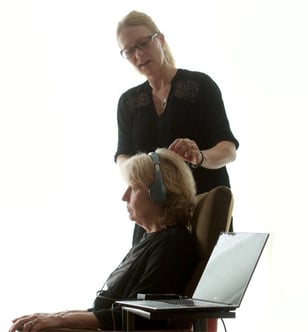 What is the Cost of Neurofeedback?
At the Neurofeedback Training Los Angeles location, we offer both rentals and in-office sessions. Cost per session range from $40 and up depending if renting a unit or coming in for sessions. If coming in for a session at the office in Pasadena, the cost for the initial session is $105 and then $135. Clients often train in-office for a few sessions then switch to a rental for the convenience and cost savings.
IN-OFFICE SESSIONS PRICING
The cost of a neurofeedback session in Pasadena is $135. First time clients get a $30 discount and pay only $105. Neurofeedback packages also available; Buy 5 sessions and pay only $105 per session.
The NeurOptimal Sessions at our California office are with Sara, certified NeurOptimal® neurofeedback trainer and rental manager for West-Coast Region (California, Oregon, Washington, Alaska, Hawaii and British Columbia, Canada). She's been a rental manager since 2015 and have done NeurOptimal neurofeedback training sessions for over eight years.
Address: 28 North Oak Ave. S. 104 in Pasadena
The appointment takes 50 minutes while the programs lasts 33 minutes.
NEUROFEEDBACK HOME KIT PRICING
The cost of renting a NeurOptimal Trainer range from $600-900/month. Cost per session can then be as low as $40 to $60, depending on what monthly plan one chooses.
Minimum rental period is one month with the option to extend the rental for two or four weeks.
Same effective training as in-office sessions! Pick up for free in Los Angeles or Pasadena or have the unit shipped directly to your home for a small fee. Click here to learn more.
Here's a review from a client in Oregon who rented a home system:
"The Neurofeedback rental was easy to use, cost efficient and extremely effective. My stress response has taken a back seat."
Talk to a Neurofeedback Trainer Coach!
Schedule a Session with Sara or inquire about our Home Unit Rentals.
LOS ANGELES NEUROFEEDBACK SESSION REVIEWS
NEUROPTIMAL RENTAL REVIEWS
This has been the best experience ever. To start off I have completed 19+ sessions and feel amazing. I could feel the difference after my 1st session. My thinking is clearer than ever, I notice my negative thoughts but they do not bother me. I able to let them go in a second. One of my observations was that my typing was much easer. I have been brushing up on my typing skills for months, after 4 sessions of NeruOptima my speed increased by 10-15 words per min and my typing was much more fluid. Additionally, I have a son that was diagnosed with ADHD 6 years ago that has completed 8 sessions and he has made some really good improvements! to much to explain here but he has definantly made some big changes! Sara was the most amazing person to work with, her customer service skills are remarkable. I highly recommend Neuroptimal !!! this will change your life.
– Michael, 2019 Google Review
Andrew: I noticed PROFOUND changes: changes in behavior, thinking, and habits that I had been working on for years unsuccessfully. Read review on Yelp
Rachel: After a month and about 12 sessions I saw a great improvement in my sleep, fell asleep fast and able to go back to sleep if I wake up at night. Highly recommend it! Read review on Yelp
Morgan: I rented a Neurofeedback machine for 3 months and have been very pleased with the results. I feel calmer and more focused. I am very grateful to have had the opportunity. Read review on Yelp
More Google Reviews from Renters
---
DOWNLOAD FORMS
Prepare for your first appointment. Download and fill out forms below prior to your first session
Consent Form (fill this out and bring with you to your first appointment)
Checklist of Concerns (pdf) We strongly recommend clients fill this form out to track ones progress. Fill this out prior to your first session and then after a set of 8 sessions. Rate from 0 - 10.
WHAT IS NEUROFEEDBACK?
Neurofeedback is a form of brain training that was developed out of the discoveries of biofeedback. Neuroscientists discovered that measuring and tracking the brain's electrical activity, or brainwaves, was not only meaningful but could be used as a form of feedback to help correct or optimize the brain's performance.
The mental and emotional experiences people have are created through the brain's use of neuro-chemicals and electricity. Lack of mental focus when trying doing school work or worrying when it's time to fall asleep are examples of how the brain can get stuck in patterns of activity that don't benefit the individual in their current needs.
Only recently has the speed of computing technology reached a level that neurofeedback devices could be created. The speed of the brain's computing (think of electricity running through wires at a speed of milliseconds) can now be tracked by computers allowing this type of feedback system to created as a tool for brain wellness.

BENEFITS OF NEUROFEEDBACK
With sessions at our New York neurofeedback center, the client learns to reset the brain's negative patterns, allowing the individual to better manage sleep, emotional regulation and cognitive fitness such as focus and concentration.
Often clients report feeling calmer, more focused and relaxed at the end of a session.
Our clients are adults and children of all ages. Each train for a variety of reasons. We see the best results in children when parents also have neurofeedback sessions.
Benefits include:
Sleep management
School / academic performance
Executive functioning
Emotional fitness and resiliency
Mental fitness for anti-aging
Stress management
Why We Chose The NeurOptimal® Neurofeedback Equipment
Our first neurofeedback center was in New York and opened in 2011. After 10 months of researching different equipment, we decided on the NeurOptimal device because it met our needs to provide effective and safe neurofeedback while keeping the costs for clients as low as possible.
The NeurOptimal® system is also the latest generation of neurofeedback.
In the first generation, the skilled trainer would set protocols to encourage the brain to change its brainwave patterns to match those of a 'normal' brain. While somewhat effective, it has limitations in that it was taking a linear approach (the brain is a nonlinear system) and not using real-time data about the maladaptive brainwaves. Potential for creating side effects from over or under training was possible. It also proves difficult because it required guessing which maladaptive patterns to prioritize.
With the second generation, the advancements in computing power allowed the design of the system to shift to be synchronized with how the brain optimizes its own performance. The expertise moved from the external trainer to the individual's brain. This profound shift allowed the device to use real-time information about the maladaptive patterns, which is much more precise and valuable than using a QEEG or brain map that was taken months ago.
It also is fully automated and does not require an expert setting protocols session by session, making the home neurofeedback device a reality. This shift dramatically reduced the potential cost for clients making neurofeedback at home an option.
In Los Angeles, where location and time spent in traffic is an issue, being able to offer clients a home neurofeedback system is important to us. Neurofeedback training is a commitment and we want to ensure the greatest likelihood of success for our clients.