Los Angeles NEUROFEEDBACK TRAINING CO. IN Pasadena
Address: 28 N. Oak Ave., Pasadena, CA 91107
At our Los Angeles Neurofeedback office located in Pasadena one can either schedule an in-person neurofeedback session or rent the professional grade NeurOptimal® system.

Scroll down to learn the cost of neurofeedback, how to schedule a session in Pasadena and what to expect from your first session.
Neurofeedback Cost and Training Options
A NeurOptimal neurofeedback session range from $40 to $150 depending on if it is an in-office session in Pasadena or a home rental.
In-Person Session in Pasadena
Often client's come in for a session first to see if they like the training before renting or purchasing.
Cost per Session: $150* (packages also available, buy three sessions at $125 each). Make a payment here.
All sessions are by appointment only and preferably on Saturdays (11- 3PM)

Office Address
28 N. Oak Ave, S. 204, Pasadena (scroll down for detailed directions).
Call or text Sara at +1 (323) 990-4486‬
Renting a Home System Costs
The monthly cost of a rental range from $650 to $900/m + CA Sales Tax. The lowest cost plan includes 12 sessions and the cost per session is around $60. The Unlimited comes with unlimited use and is best for families or individuals who want to train more than 3 sessions weekly. The cost is roughly $30 per day. Learn more about renting here.
Please note: If picking up a rental at the same time of your appointment it must be reserved in advance as we have limited systems available. A live demo on how to set it up at home is available upon request.
Schedule a Session in Pasadena
Fill out the form below to book a session or inquire about a home rental.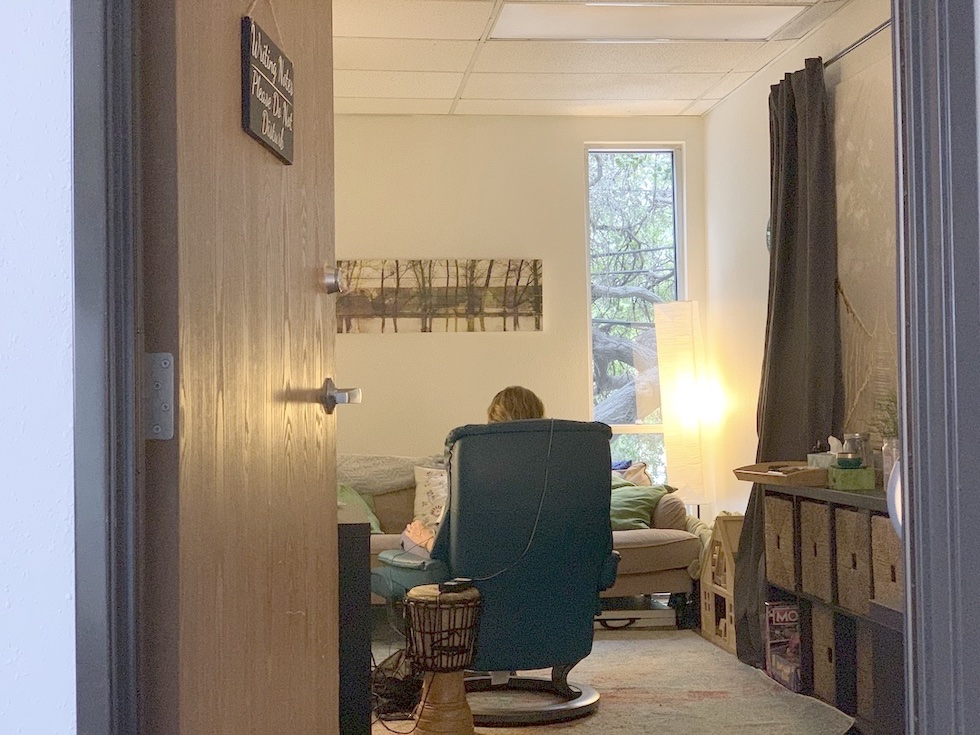 What to Expect In Your First Neurofeedback Session
A training session lasts about 45 -50 minutes and is relaxing and enjoyable.
Watch this video to learn how NeurOptimal® works. During the the 33 minute session you will be by yourself in the room. Since NeurOptimal® is a fully automated system, and is effortless brain training one does not need to pay attention to anything while training. Primary feedback is delivered via audio. Sleep is encouraged or bring reading materials to your session.
View more FAQ's here.
Meet Your Los Angeles Neurofeedback Trainer Sara St. John.
NeurOptimal® Neurofeedback Trainer and Rental Manager for the West-Coast Region and Canada since 2015. She started with neurofeedback sessions in 2011.
COVID-19 UPDATE
Our in-office sessions follow strict COVID-19 protocols recommended by CDC. Our local Los Angeles neurofeedback trainer has been fully vaccinated and we appreciate if only fully vaccinated clients book an appointment at this time. Wearing a mask is required at all times during the session. Social distancing will be enforced as much as possible except when adding and removing the EEG sensors. We provide an air-purifier in the room as well.
---
For any questions, call or text Sara at +1 (323) 990-4486‬ during regular business hours or use the Chat Widget in lower right corner.
---
---
YOUR LOS ANGELES NEUROFEEDBACK TRAINER COACH
Sara became a certified NeurOptimal® Trainer in 2015 after seeing results from the sessions nine years ago. She is the rental manager in the West-coast Region (California, Oregon, Washington State, Alaska, Hawaii) as well as British Columbia in Canada.
Address and Detailed Directions
Address: 28 N. Oak Ave., Suite 204, Pasadena, CA 91107
Directions (watch also the video to the right):
Entrance to building is from the large parking lot, enter the black double doors right next to the mailboxes. It will say "28" above the doors. Office is also a therapy practice with a waiting room.
If the doors are locked, call Sara at 1+323-686-2717. If open, just walk up two flights of stairs. The office is located at the end of the hallway (no sign on door).
Parking: Free parking is available in the back of the building or along North Oak Avenue.
Good to know before your session:
Please download and sign a consent form. The form will be available to sign at the appointment as well.
A Checklist is recommended to fill out as well, especially if continuing the neurofeedback training. NeurOptimal® relies on self-reporting tools like this to keep track of changes. Here's why. (Please note: no need to share this with the trainer).
Why NeurOptimal®?
This fully automated neurofeebdack system works directly with each person's brain for optimal health. No expensive brain mapping or diagnosis required as the expertise is built in.
NeurOptimal® brain training is effortless.

Other neurofeedback systems require the user to "interact" by playing games or solve puzzles

.

Safe brain training and well suited for kids.

It's completely non-invasive brain training – nothing is added to your brain.

NeurOptimal® Neurofeedback is designed to give each individual brain information on its own moment to moment functioning, allowing the brain to be more flexible and resilient. Over time it can help with

improving ones focus and clarity and feel more calm

. Academic performance can also be enhanced by improving concentration and mental focus.
Latest Neurofeedback Reviews (Renters & In-office Sessions)
Neurofeedback with this team has been such an incredible experience. Sara has been so kind and amazing, making this experience even better! From the first session I was able to manage my stress better. Throughout the couple of months of neurofeedback training, my fear and worry around crowds dramatically lessened as well. I used to have very physical reactions to group meetings, seeing old friends and anything that was a big deal for me. I would get massive stress rash, my heart rate soared and I had so much nervous sweat- until the last couple weeks (post feedback) I have literally had no reaction in the 3 big meetings since then. I didn't even know that could be changed! 100% I recommend take the step toward better wellness. I feel like I can function now.
A.A. Rented a neurofeedback system for 2 months in Los Angeles. (Google review)
I had a great experience with my neurofeedback home rental system. It was easy to use, and after just 12 sessions (one month) I definitely felt more focused and creative with my work. I also slept better and my mood improved. My mind felt overall more relaxed and peaceful. Would highly recommend giving this a try!

– J.L., Los Angeles. Rented a neurofeedback system for one month. (google review).
I was extremely impressed with both the impact of using the NeurOptimal software as well as the quality and care that Sara put into her interactions with me throughout my rental period. I rented the system for two months and felt a very tangible relaxation effect in my body. The longer I used it, the more this effect accumulated and I will certainly be looking into renting one again when I am able. After getting used to the set up, it is simple and quick to set up sessions for yourself and as I said, the sessions really build on themselves in a subtle but tangible way. Sara, my rental manager, always interacted with me in a way that felt human and personal, and I always felt like I was being respected as an individual and not just as a customer. Thanks Sara!
– S. Oregon. Yelp review. Rented a system for two months

NeurOptimal® system has helped my focus and increased my awareness to be more 'in the moment'. I feel more calm, more at peace and happy. I was doubtful at first but can feel the changes!".

– E. San Diego, CA. Rented a system for two months
I must say, I was skeptical at first. Having a background in psychology, I was wary of Neurofeedback. Well, at least 15 sessions later, I am sold! I find my concentration levels improving, ability to understand and retain information while studying has increased, and I have more natural and restful sleep cycles---all adding up to a more relaxed feeling throughout my day.
– J., Eagle Rock, Los Angeles. Did three in-office sessions and then rented a system for one month. Continue to rent every 6 months.
Neuro-feedback has helped me immensely. I did a lot of research and made a lot of phone calls before finding NeuroOptimal and that I could rent a system. It has helped me be more focused and calm when in stress.
– Sheila, Los Angeles. Came in for a session and then rented a system
I must say, I was skeptical at first. Having a background in psychology, I was wary of Neurofeedback. Well, at least 15 sessions later, I am sold! I find my concentration levels improving, ability to understand and retain information while studying has increased, and I have more natural and restful sleep cycles---all adding up to a more relaxed feeling throughout my day.
– J., Eagle Rock, Los Angeles. Did three in-office sessions and then rented a system for one month. Continue to rent every 6 months.
More Success Stories
---
More Reviews from Renters on the West-Coast
I rented a Neurofeedback machine for 3 months and have been very pleased with the results. I feel calmer and more focused. I am very grateful to have had the opportunity. Sara and Kate were wonderful and responsive. Thank you very much.
– M., San Diego, CA
I was introduced to neurofeedback through the seminal book, The Body Keeps the Score, by Bessel van der Kolk. Thereafter, I did a lot of research and was thrilled to find the convenient option to rent a NeurOptimal system from Sara to use at-home. Bonus - Neurofeedback Training's rental option saved me hundreds of dollars vs. a different provider's on-site clinic fees in my city (I'm not in CA). I trained regularly for 2.5 months (over 50 sessions) and am 100% satisfied with my investment.
– E. in Portland, Oregon
I rented the home system, and I did a session every day for about 3mo. And I noticed PROFOUND changes: changes in behavior, thinking, and habits that I had been working on for years unsuccessfully.
Andrew, Los Angeles, CA (read full review on Yelp!)
Amazing experience! I felt more grounded, confident and my clarity greatly improved. Sara is wonderful and the machine is very easy to use at home. I highly recommend Neurofeedback Training.
– Wendy, WA
What Are the Best Neurofeedback Training Options other than In-person visits?
Rent a Neurofeedback at Home Kit

Cost:

$650 - $900 per month + CA Sales Tax). The rental provides the same professional neurofeedback technology as in-office sessions. If scheduling an in-person session, a short demonstration on how to set up the system at home is available upon request and can be done at the same time as ones in-person visit. If wanting to rent the system after the in-person session, the rental must be reserve few days prior as we have limited systems available. Learn how to rent a system here.
Buy a Neurofeedback Machine Cost:

$7000 and up.

Learn more.
Neurofeedback At Home Rentals
If inquiring about a rental, next step is to reserve your system and sign the required paperwork. If there is a wait those two steps will get you on the waitlist.

---
Common Questions About Neurofeedback Training
What you need to know about brain training with the NeurOptimal® Dynamical Neurofeedback™ system


What Is Neurofeedback?
Neurofeedback is a form of brain training uses EEG sensors to measure brainwave activity. Feedback is given to the individual when the brainwaves change to allow resetting mental and emotional patterns. Watch our video >
What Neurofeedback Technology Do We Use?
The system we use for sessions and rentals is called NeurOptimal®. This second generation neurofeedback technology is fully automated and does not require any protocols (brain mapping, EEG Scan). Instead, it is the only dynamic neurofeedback that allows the individual's brain to be the expert deciding how to use the information rather than an expert trainer setting protocols to force change. Thus allowing change to happen organically and minimizing unwanted effects.
How Does Neurofeedback Work?
Neurofeedback therapy focuses on unconscious learning in order to promote self-regulation. During neurofeedback, the brain is learning about its habitual electrical activity. Electrical activity is one of the two ways the brain communicates internally; the second language is chemical activity.
Neural pathways are connected via electrical impulses going down through the neurons (like stomping down the path),and chemicals allow the message to continue from one neuron to the next. Negative habitual patterns--such as waking up too early, not being able to focus on the task at hand and worrying--are reflected in our electrical brainwave activities. Unfortunately, the brain builds these negative pathways automatically, even though they are not helpful. In fact, they are signs of disregulation. Through the neurofeedback program we learn how to find better patterns.
When you decide to try neurofeedback brain training, you are addressing these old brain habits of well-worn stress responses. The training helps you learn how to be responsive to your current needs and goals, rather than react with old habits that have been stomped in the snow.
Is Neurofeedback Effective?
With neurofeedback sessions the individual learns to reset those negative patterns, allowing them to better manage sleep, emotional regulation and improve cognitive fitness such as focus and concentration.

The immediate benefits from neurofeedback sessions, typically noticed after one to three sessions include feeling calmer, more focused and for many, getting better sleep. More benefits >
How long does neurofeedback take to work?
Everyone is different. Some report immediate results (from subtle to more apparent changes in behavior, sleep habits or emotional regulation) and some may require more training in order to notice shifts. Typically, we recommend 8-10 sessions to start with and after a set of 8 sessions assess if you are benefitting from the training.
When coming in for a session or if renting a home system. We recommend everyone who is training to fill out the checklist so that they can observe the areas where they want to improve.
We ask all clients, regardless of whether they are renting or training in-office, to fill this checklist out every 8-10 sessions.
This checklist is key because it gives a numerical value to your goals and allows you to track your changes over time. Seeing the numbers change is a sign of progress! During the first 8-10 sessions, numbers typically drop by 3. For example, if "Difficulty concentrating" or "Often worry" starts at a value of 9, it is often reported to be a 6 after 10 sessions.
These reporting tools also improve self-awareness. One of our goals as neurofeedback coaches is to help clients notice how they are feeling. Noticing subtle changes helps you get ahead of your feelings, and maintain a sense of focus and calm. Self-awareness is the first step to success, because it key to identifying which tools will help re-regulate the mind, whether it is a neurofeedback session, going to be early, or getting to the gym.
How Many Neurofeedback Sessions Do I Need?
Since 2011, we have helped thousands of clients complete successful brain training and our Neurofeedback Trainer in Los Angeles Sara has helped over 350 home renters since she began in 2015. The key to success is to not approach your training goals in terms of number of sessions completed or how your brain might look differently on a graph. The best results come from using self-assessments rather than the number of neurofeedback sessions. Our clients see better results when they use the self-reporting checklist as a guidepost. They benefit in two ways. They see from real data, that changes are happening. As well, clients develop self-awareness by tracking shifts in their experience week by week. This practice leads to optimized and individualized training that fit our clients' needs. Rather than follow a prescribed amount, clients discover how many sessions are right for them and their children.
Continue reading >
Is Neurofeedback Covered by Insurance?
Individual health insurance companies determine what is covered and it varies policy to policy. Reach out to your insurance to inquire. The cost of renting a home neurofeedback device is approximately the same price as many co-pays, approximately $40/session. At this moment we don't take insurance for in-office sessions in Pasadena or for the home system rentals.
Is Neurofeedback Safe? Is NeurOptimal® FDA Approved?
Yes. It is safe. The NeurOptimal® neurofeedback system is not harmful and is 100% non-invasive. The FDA has approved it as a General Wellness Device, which means it is safe for consumers to use without the oversight of a healthcare provider.
What are the side effects of neurofeedback?
The NeurOptimal® system has a non-invasive design. It does not force changes in brainwave patterns but rather works by giving the brain the millisecond-by-millisecond feedback about its maladaptive patterns so the individual brain can utilize the information to improve its own functioning.
An analog for the feedback process is seeing your reflection in a mirror. If you see your head is tilted you'll most likely automatically straighten it. NeurOptimal® alerts the brain that it is doing something and each brain will decide how to use the information it is presented with, in order to optimize its own functioning.
The most common effect after a neurofeedback session is that clients report feeling calmer and relaxed. When clients have poor sleep hygiene and are exhausted they will often report feeling tired at the end of the session. This shift is a result of increased awareness and the client shifting out of a stress response. We coach these clients to pay attention to this shift as a communication of the need for more sleep.
---
Watch Videos: